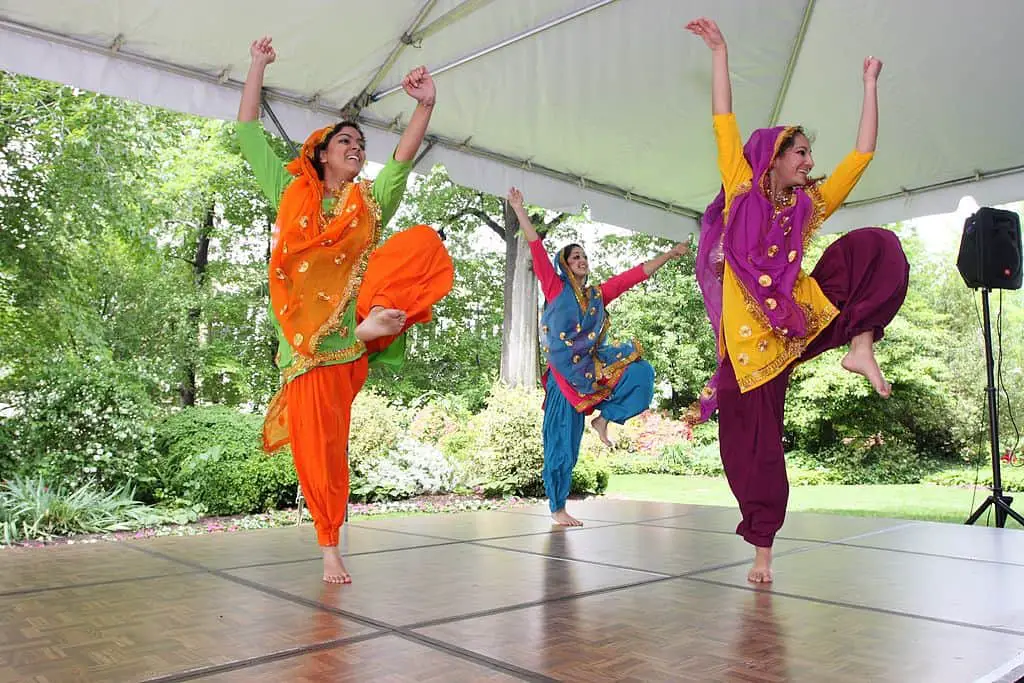 I have always wondered what the Sangeet ceremony is all about. So when I got a chance to attend a friend's Sangeet, I grabbed the opportunity with both hands.
So how do you plan a Sangeet ceremony? A Sangeet boils down to timely planning and coming up with a budget as well as a team that will help through the planning. Sangeet ceremonies are usually elaborate. The ceremony mostly involves women from both the bride and the groom's families coming together to have a good time and know each other well. Notably, the ceremony is usually held at least three days before the wedding.
The sangeet planning all depends on the number of guests you expect. You budget should also be entirely pegged on the number of days you plan to have the event go on. With proper planning, you can be certain everything will go as planned.
Remember that as already mentioned, the Sangeet is all about the bride. But what happens where the groom also becomes part of it? Such Sangeet events will without a doubt call for both parties to plan well.
Proper planning as you'll find out, means setting aside funds for everything from the outfits and meals all the way to music and even photography. This means you can't do it alone.
It also means you can't plan for a Sangeet on short notice. Your best bet is to take time. Start planning at least 6 months in advance. You may have to start your planning sooner if you'll have friends and family traveling from abroad.
Coordination and cooperation plays a vital role when it comes to planning a Sangeet. If both the bride and the groom are involved, then their respective teams must work together while planning for the Sangeet. This is particularly important if you'll have entertainment groups like dancers and performers.
Whatever you do, put down your plans in writing. Then remember that your budget should not be cast on stone. Set aside money for emergencies and unexpected mishaps.
Buy drinks in advance, book the DJ too in advance. Have at least two people assist you with the planning. This shouldn't be hard if you have chosen to coordinate through social media platforms like WhatsApp or Telegram.
Your health is also important when planning for a Sangeet. It is however unfortunate how people often take the health factor for granted. With Indian weddings lasting for days, you'll certainly need to be in good health for and your soul mate to enjoy each moment that precedes the wedding and even the moments that'll come shortly after the wedding. With that in mind, take good care of yourself.
This is as easy as getting enough sleep and eating well. Don't for whichever reason, get drunk as you plan for the Sangeet. It'll not just paint a negative image about you. It'll also drain your energy as you need a whole day to nurse a hangover.
What should a female wear to a Sangeet?
From colorful and stylish outfits to mind-blowing dance performances, Sangeet gatherings never fail to impress. You have no choice but to stand out from what you wear as a lady. It gets even better with the fact that there are no strict rules when it comes what ladies should wear. You're good to go with anything really, as long as you're decent.
You're free to experiment with outfits that bring out the best in you. Expect anything at a Sangeet, from traditional Indian dresses to modern Indo-Western outfits. Whatever you decide to wear, prioritize comfort and more importantly, the Sangeet night theme.  Feel free to try any of the following outfits.
Lehengas – It is hard, almost impossible to miss Indian ladies wearing lehengas for Sangeet events. The reasons is simple – lehengas ensemble vibrant hues that reflect the party mood, which what the Sangeet is all about.  Wear a stylish lehenga to a Sangeet and you'll easily grab attention without struggling.
Traditional Dhoti Pants – They suddenly became popular in 2016. Not so much has changed since then, only that Dhoti pants seem to get more and more popular for the Sangeet. You'll most likely fall in love with the idea of wearing dhoti pants to a Sangeet mainly because they can easily be styled in different ways with crop tops, tunics and kurtas. Be sure to layer your dhoti pants with a colorful floor length cape or jacket to make a bold statement.
Crop Top and Long Skirt/ Lehenga – Think of the lehenga – crop top outfit as an evergreen trend. You can flaunt the versatile outfit at a Sangeet and elegant, confident and gorgeous. The combination makes a perfect outfit especially for bridesmaids.
Anarkali Gowns – Anarkali gowns are extremely popular in India. They ideal not just for Sangeet events but just about any other social gathering. The fact that they are comfortable and decent makes them even more ideal and appealing for Sangeet gatherings.
Saree Pants – You need copious amounts of confidence, style and elegance to flaunt saree pants at a Sangeet dinner. Dhoti pants, complete with sarees that feature straight cut pants or even leggings will certainly make heads turn around at any Sangeet event.
Kurt Lehenga – It is easy to understand why you can't go wrong with a Kurt Lehenga outfit for a Sangeet event. For starters, brides, bridesmaids, middle aged women and even youngsters can confidently rock the Kurt Lehenga and look gorgeous.
Peplum Kurtas – Go for frock style or peplum kurtas if you're keen being the center of attraction at a Sangeet. They are super comfortable, elegant of gorgeous. Take things a notch higher and pair up your peplum style kurta with a different bottom wear. The Sangeet is all about fun after all. It's all about looking good too.
Can you wear red to a Sangeet?
In India, any auspicious event like the Sangeet is incomplete without the color red. That's because in many Indian traditions, the color red symbolizes a new life. The bride has to leave her parent's house so as to start her new life with the love of her life. There's also the fact that red is associated with passion and love. This is especially the case in the western world where red is symbolizes love especially on Valentine's Day.
Hindus also consider red as the color of fertility and prosperity. It is because of this reason that Hindu brides often wear red during their weddings.  Hindu tradition further dictates that a married woman must flaunt a red bindi while a single one should flaunt a black one. This is one of the main reasons why the henna used to decorate the palms of the bride is often red.
Red isn't just limited to attires as far as Sangeet events are concerned. The color is also ideal for jewelry and accessories. Brides incorporate golden jewelry with hints of different shades of red to stand out. 
Like already hinted, the Sangeet is all about having fun with the bride's family. There are no limits or restrictions as long as you remain decent. With that in mind, put on your favorite red dress for a Sangeet. Then accessorize with sandals, jewelry or clutches that blend well with red.  
Alternatives To The Red Color
Just like red, yellow is also a significant color in Indian weddings. As a matter of fact, red and yellow dominate nearly all Indian auspicious events.  Yellow, which signifies prosperity is actually a good alternative for those who find red too bold.
Haldi
Haldi is Hindi for turmeric. It is in some way, a different shade of yellow. It is easy to understand why the color is a must have in Indian auspicious events like the Sangeet. For starters, turmeric can hide turmeric stains over dinner.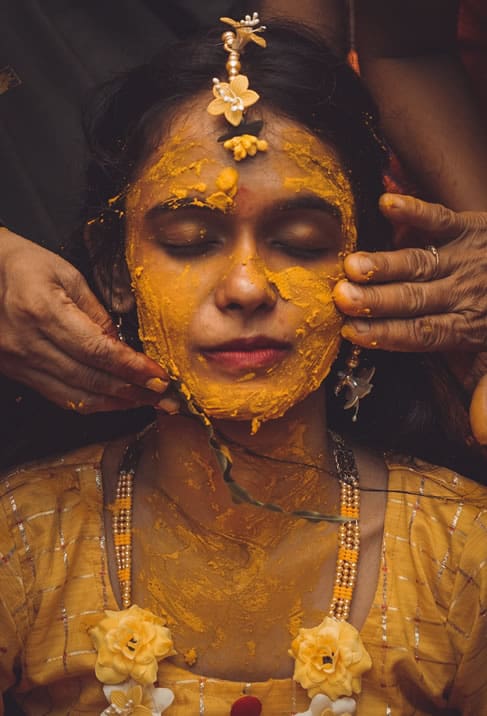 Then there is the fact that it is considered sacred, which is why both the bride and the groom usually have hints of haldi colors on their outfits. Then there are of course, colors you shouldn't wear to a Sangeet. Black and white stand out here as forbidden colors.
Keep in mind that the Sangeet is a nocturnal event. As such, vibrant colors like palette as well as luxurious ones like magenta, marasala, midnight blue and violet are ideal. If for one reason or another you have a soft spot for low tone colors, then by all means spice up your outfit with bright jewelry.
Contrasting embellishments in silver and gold will make you stand out without drawing too much attention. Gota patty, sequin and zardosi work can add a fine touch of glamour and elegance even to subtle colors.
It is also important to note that the Sangeet usually presents the perfect opportunity for the bride to don some unconventional colors and even outfits that she would otherwise shy away from.
What do you wear to sister's Sangeet?
You have a wide range of options as far as what you should wear to your sister's Sangeet is concerned. There are factors you need to consider though before choosing an outfit. If the Sangeet party has a theme, then you have no choice but to go with the theme. Standing out as the odd one with a different theme is the last thing you should consider.
Many Indian weddings are generally about ethnic outfits. This means you can go for a decent anarkali suit or even a lehenga. Remember to be keen with your choice of colors. Colors like yellow, red, purple or even orange look spectacular in Sangeet functions. Go for lighter colors like baby pink, light green or baby pink if you have a dusky skin tone.
Accessories
Flaunt your favorite dress but don't forget to accessorize. Everything matters in a Sangeet – from the dress to the hairstyle, the henna and even the lipstick, you have no choice but to look stunning.
As already mentioned, comfort is everything when attending a Sangeet. This is extremely important especially if you'll be taking to stage to dance.
Hairstyle – Go for a bun hairstyle. It looks gorgeous with many outfits. It is also comfortable.
 Shoes – avoid high heels especially if you'll on your feet for long or if you'll be dancing. Instead, go for medium size or flat heels. You can also opt for embellished jhuthis and still look good.
Flowers – wear colorful flowers and jewelry to complement your hair and overall outfit. Flowers, if done well, always look nice with a hair bun so go for it.
Make up – Go light on make up for the Sangeet. Keep it simple but pretty. A natural color lipstick, simple henna and kajal eyeliner will suffice.
What is the difference between Sangeet and Mehndi?
The Sangeet ceremony is about singing and dancing whilst the Mehndi ceremony involves painting intricate designs on the hands and in some cases the feet and legs using special paste made from turmeric known as haldi. Sangeet tends to involve women from both the bride and grooms side whilst the Mehndi generally centers on the brides side of the family with female relatives and friends.
Nearly all Indian cultures have one thing in common – their weddings can go on for days. It is hardly ever a one day event. That's because the wedding day, which is the D-Day is always preceded by a series of celebrations. The celebrations take place before the couple exchange their vows in a bid to bring their families together. The Mehndi and the Sangeet are two examples of events that precede Indian weddings.
What Exactly Is A Mehndi Party?
The Mehendi, or simply mehndi, is an ancient form of body art. Strangely, the Mehndi is not a strictly Indian affair. It traces its origins in South Asia and the Middle East. It's not so clear how the tradition found its way to India.
It's also not clear whether it was India that influenced the spread of the tradition to other parts of the Gulf or the other way around. Either way, Mehndi stands out as one of the most common Indian weddings traditions today only second to the Sangeet.
Mehndi features in both Hindu and Sikh cultures. It takes place just a day before the wedding. This is in fact, where it differs with the Sangeet which is held days before the wedding. It is as such, safe to say or conclude that the Mehndi is the culmination or rather what marks the end of the Sangeet party.
Think of it as a ceremony or event held to 'beatify' the bride. Red or Orange mehndi is thoroughly applied on the back of her hands, the palms and feet. It is often a low key event which is yet another factor that sets it apart from the Sangeet which is usually full of energy and vigor.
Traditionally, the Mehndi was held at the bride's home. This has changed over the years, with the event now at different places including cafes. It is, however, impossible to have the event held at the groom's home.
There's a reason why the Mehndi is usually held just a day before the wedding. Indian traditions dictate that the deeper and more vibrant the colors on the bride's mehndi, the more successful and happier her marriage will be. That explains why brides always go for intricate designs that are vibrant and detailed.
It is also worth noting that it is hard, almost impossible for the bride to retain the details such as patterns, designs and even color shades on her mehndi for two days. For all the details to remain intact, the wedding must take place just a day after the bride has her Mehndi event.
It is also worth noting that just like the Sangeet, the Mehndi is mostly an all-women's affair. Traditionally, only women from the brides and the groom's families attended the Mehndi. This always meant mothers, sisters, sisters-in-law, cousins and aunts.  This hasn't changed much over the years.
Another stark difference between the Sangeet and the Mehndi has everything to do with how two events have changed over the years. While the Sangeet has bent some rules to even allow the groom to be part of the event, the Mehndi hasn't. No men take part in the makeup process.
Although the Sangeet and Mehndi events both have the bride as the center of attention, the latter seems to put more emphasis on the bride. This shouldn't come as a surprise given that that the Mehndi is one of the most significant celebrations in Indian marriage ceremonies.
It symbolizes the Outer as well as the Inner Sun. It is also one of the most important sixteen adornments of the bride. The Mehndi is actually so important that the bride's beauty is considered incomplete without it.
Wrap Up
It is impossible to talk of an Indian wedding without mentioning a thing or two about the Sangeet. That's because there's no Indian wedding without a Sangeet. The event seeks to bring two families together. It encourages bonding, mutual trust and respect for the families involved. So as much as the bride is the center of all the attention, the Sangeet isn't really all about her in a strict sense.
Expect a good time while attending a Sangeet. Look good as everyone else attending the event will most likely put on their best outfits. Eat, drink and dance. The event is after all, a sign that your friend has moved on to the next phase or chapter of life.
Photo credits:
Main image – Shamrock23, CC BY-SA 3.0 https://creativecommons.org/licenses/by-sa/3.0, via Wikimedia Commons