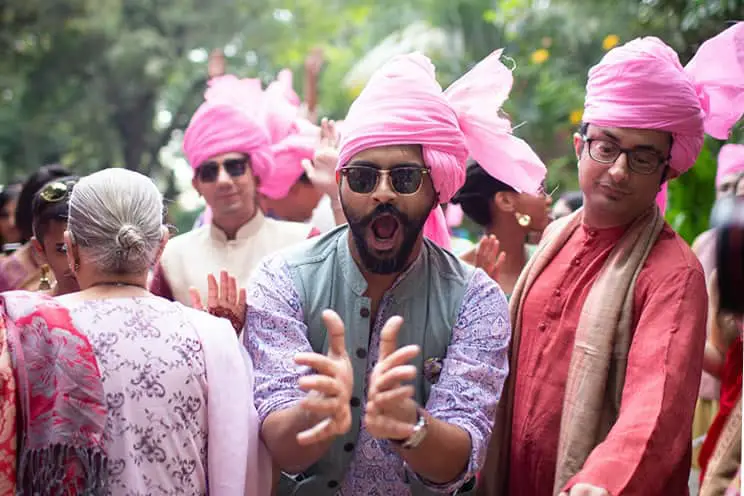 After getting an invitation from an Indian friend of mine, I wondered what their weddings are like. Out of curiosity, I did some research, especially on the best man's role at an Indian wedding.
Do Indian weddings have the best man? Yes, they do. The best man at an Indian wedding plays a huge role before and during the wedding. Because Indian weddings can span days, the best man's primary role is to ensure everything runs smoothly to ensure the groom enjoys his day. He must stand by the groom's side until he and the bride become husband and wife.
It is easy to assume that all the best man does at an Indian wedding is to support the groom morally. But like you're about to find out, the best man is usually the heartbeat of any Indian wedding. Pretty much everything revolves around him.
Do Indian Weddings Have Best Man?
As already mentioned, the best man ensures everything runs as planned. This means preparing for the wedding early enough in advance. Aptly speaking, you must be involved in the following five things if you're the best man at an Indian wedding.
Music – You must know the DJ is. It would help if you then made sure the DJ has a list of all the bride's and groom's favorite songs. This is important because Indian weddings aren't complete without music and dancing.
The bar – No one knows the groom's drinks better than the best man. This leaves you with no choice but to coordinate well with the bartender. You have to get the right cocktails for the couple. Remember, not everyone drinks alcohol. With that in mind, make sure the bartender can do bespoke cocktails for the wedding for teetotalers.
Speaking of alcohol, you have a role as the best man to ensure the groom doesn't overindulge alcohol.
Food – Three main things highlight Indian weddings – colorful outfits, music, and food. This means you have to know what will be on the menu on the big day. You have to know the couple's favorite dishes and proceed to pick caterers that are innovative enough to ensure no one leaves the party on an empty stomach.
The groom and his squad's outfits – Indians go big on their costumes. You must be able to assist the groom in selecting his wedding outfit. From then on, you must help him to ensure that you are all color-coordinated for the D-day. Whichever outfit you go for, the groom must stand out. The rule of the thumb here is simple – the groom comes first, the groomsmen come second.
Keeping Time –The last thing a groom wants on his wedding is to make frantic calls looking for his squad. That role is reserved for you. You have to know where each member of the groom's crew is. Ideally speaking, you must all be together and leave together for the wedding venue. If that isn't possible, send everyone a quick reminder a day before and follow up with them as the venue's departure time gets closer.
To ensure that the groom has a fun-filled wedding, you must be prepared for uncommon eventualities. Anything can happen before or during the wedding. It could be a slight wardrobe malfunction or a sudden migraine. Have some aspirin with you. Then brief the other groomsmen to be alert on the wedding day just in case things don't go as planned.
Do Indian Weddings Have Groomsmen?
Yes, Indian weddings have groomsmen. They form a special part of the wedding because they are attendants to the groom on his special day. Traditionally, the groom chooses his closest male friends and relatives to be part of his groomsmen.
Notably, groomsmen in Indian weddings support the groom throughout the wedding process. They don't just join the groom on the dancing floor. They also go the extra mile to add some positive energy to the wedding. Take your role seriously if you are part of the groomsmen squad. That's because you'll be helping one of your closest friends enjoy what can easily be a stressful, nerve-wracking, and jam-pace day.
You're expected to be active by attending all pre-wedding festivities. That is often the easy part. The challenging part usually comes during the wedding. Note that while the best man must give a speed at the reception, you might also be asked to say something at the rehearsal dinner or even at the reception.
Be cooperative as much as you can during the wedding. The best man may not be able to handle everything. Organize yourselves with other members of the squad to ensure everything runs smoothly. Assign yourselves role. For instance, one of you should ensure guests' transportation to and from the wedding venue go as planned.
Lastly, look good! It is a happy day, with happy faces all over. You'll appear in so many random photos with the best man, other groomsmen, and the bride. Smile as much as you can. Be sure to also keep your outfit neat throughout the wedding. Smell nice too, and style your hair well.
What Men Wear To Indian Weddings?
Whatever you choose to wear to an Indian wedding, stick to one rule – keep it bright. Then, by all means, avoid black outfits. That's because an essential part of the dress code for Indian weddings is color. Bright, festive colors always work. You have the following options. Check out more on what to wear and what not to wear.
Sherwani With Churidars
A sherwani is a long and bright coat like jacked fastened with many buttons. It stands out as one of the most common male attire for men for Indian weddings. An ideal sherwani shouldn't be too long. It should reach somewhere slightly below the knees and hit somewhere above the calf.
To look stunning, go for a cream, gold, or light ivory sherwani. Be sure to go for one that features elegant embroidery complete with a scarf over one or both of your shoulders. Then to complete your stunning look, wear your sherwani with a churidar, which is a pair of tight-fitting pants. Note that the best churidars are loose around the hips and thighs but tight and gathered around the ankle.
Jodhpuri
Indians sometimes refer to it as the 'prince suit. It is a traditional outfit ideal for special events like weddings. It features a three-piece look, which includes a coat, trousers, and a shirt or vest.
Kurta Pajama
It is ideal for men who want to go for a toned-down, simple look. It is a loose-fitting knee-length shirt-like attire. Many Indians prefer to wear it in warm climates, so it makes a perfect fit for an Indian wedding with a beach reception.
Point to Note
Be comfortable in whatever you choose to wear to an Indian wedding. If you're with the groom, this is vital. That's because, during the 'baraat,' the groom's family and friends will perform a processional dance as they meet the bride's side. You must be at your feet during the dance.
For some Indian weddings, guests must sit on the floor. Therefore, you must ensure that your attire isn't too short or too binding to allow you to sit cross-legged for a long time. To be on the safe side, go for loose, yet bright attire, tailor-made, and measured to precision to fit you.