If you've recently been invited to a Hindu wedding, you might be wondering what you should wear. It might seem a little scary to immerse yourself in another culture's traditions, but you'll feel the love when you find out what to wear and fit right in.
Hindu wedding guests should prepare for multiple ceremonies. Guests are encouraged to wear traditional clothing. If traditional clothes cannot be found, guests should wear formal attire that is colorful, accessorized, and modest. Since the events are long, comfortable clothes are a must.
You still might have some questions about what you should wear and what you definitely should not wear to a Hindu wedding. Most invites should have a dress code listed, but some won't. Keep reading to figure out what you need to look for, what colors to stay away from, and how to pull it all together.
Can You Wear Traditional Clothes to a Hindu Wedding?
You should absolutely embrace the culture. One of the best things you can wear to a Hindu wedding is traditional clothing, like saris or lehengas for women and long-sleeved tunics and pants for men. These clothes will be just as glamorous as the wedding itself, so look for vivid colors and embroidery pieces. This outfit should be eye-catching.
Don't worry about outdoing the bride because everyone else will be dressed in gala wear as well.
Saris are typically worn in everyday life, but like dresses in Western cultures, there are casual and formal saris. Typically, saris are draped fabric that covers from the shoulders to the ankles. The extra fabric is left to hang free and can be used to cover your head in religious ceremonies if needed.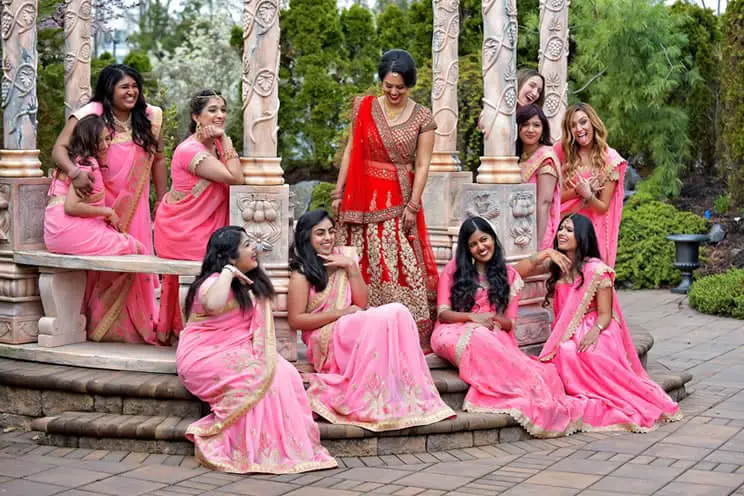 Lehengas are a two-piece outfit that has a top that's usually cropped and a full, high-waisted skirt. Both of these should be brightly colored (just don't wear red, black, or white). You can pick almost any color that will catch your attention and those around you. These can also be beaded or embroidered. Hindu weddings are supposed to lavish, and so is the attire.
Kurta pajamas is an outfit combination worn by men that consists of a tunic top called a kurta and the bottoms called pajama. The top typically goes down to the knees. They can be found in any color and sometimes are very ornate.
To add to the lavish factor, you can get the kurta to have a gold embroidered pattern. It's very striking, but remember not to outdo the groom. The pajamas should either be the same color as the kurta or one that complements it. If your kurta is embroidered, the pant could be the same color, which would make the embroidery pop.
Sherwani is a long coat that comes to the knee. This garment is very luxurious and worn for formal occasions. It is worn over kurta pajamas to really make a statement. The most striking sherwanis are made from silk. For the wedding day, keeping a sherwani on until the reception would be good. Since the ceremony is more formal than the reception, it would be perfect to showcase this piece then.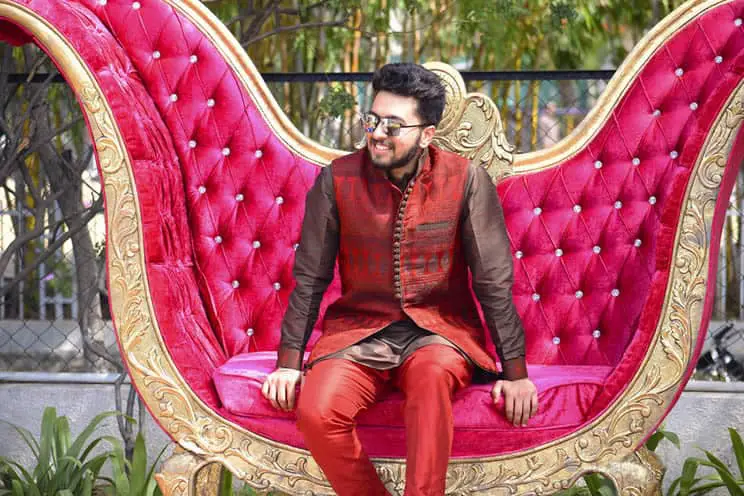 It may feel a little strange to wear clothes that are different from what you're used to, but this is one event that would be fun to experience a culture's traditions completely. Have fun with what you choose to wear, too!
What Crosses the Line into Cultural Appropriation?
Attending a Hindu wedding is an amazing way to immerse yourself into a different culture's tradition. While people are accepting of Westerners wearing traditional clothing, you may want to make sure you're not crossing into cultural appropriation.
It's educational and fun to take this time at the wedding to learn about Hinduism and its rituals. As a guest, you want to fit in and be a part of the couple's big day. What you wear is a huge part of this. When picking out an outfit, you have to be mindful of what is appropriate too.
If you're unsure of what cultural appropriation is, it is when a dominant group of people (Westerners) take on a culture of minority people who have been oppressed in some ways and who still face discrimination in their culture. In other words, it's when a person takes cultural expression from another's culture without permission.
The big component here is permission. At Hindu weddings, Westerners are welcomed to wear traditional clothes. During this time, these rituals are being opened to outsiders who haven't experienced them before. Westerners and others who are not Hindu are encouraged to wear saris and headpieces specifically found in Hindu traditions. This is an honor that one should not take lightly when attending.
Permission and Awareness
As a guest, you have to be aware that these traditions are centuries old. Just as you agreed to attend the wedding of your loved ones, you also agree to respect the rituals, too.
Here are a few things you can remember when being cautious of cultural appropriation. Don't mess with religious items. If there are things you know are religious, and that you're not comfortable with, you probably shouldn't be wearing them. Turbans should not be worn by Westerners, so even though you need to cover your head during the ceremony, do not wear a turban. Let those who partake in Hinduism wear religious garments.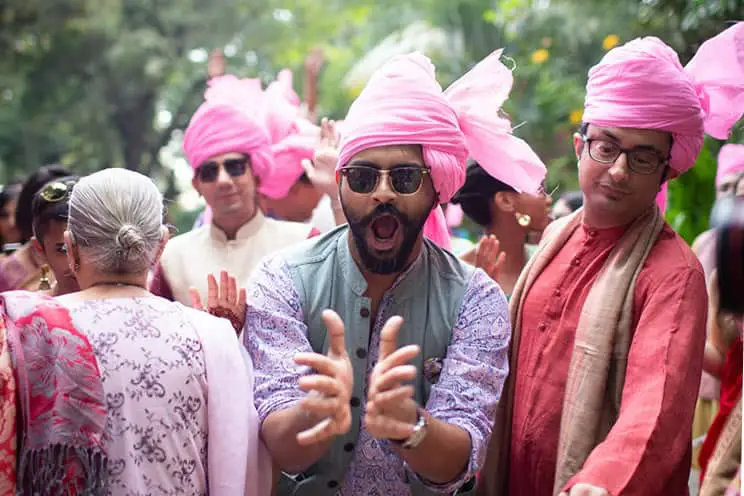 Buy traditional clothing from vendors who are Hindu, locally or online. This may be suggested on the invitation but give back to the community and individuals whose culture you are learning more about.
Lastly, be aware that you are learning about a new culture and you don't know everything. No one expects you to know every detail about how a Hindu wedding should be. On the other hand, you should be receptive to learning more about these traditions you are taking part in. Others will love to share the why's and the meanings of specific things. Don't be afraid to ask questions either!
Although it is great to take part in wearing traditional clothing, it is okay to be mindful of cultural appropriation and decide not to wear them too! Be comfortable and confident in that choice. No one will fault you either way.
Can You Wear Western Clothes to a Hindu Wedding?
You can still wear your Western clothes to a Hindu wedding. If there's not a suggestion on what to wear for a Hindu wedding, and you're not comfortable wearing traditional clothing, you can still wear Western clothes.
Most of the time, a wedding invitation will let you know the dress code. Some may even give you websites for where you should buy your clothes. With that being said, there are things to remember when picking out an outfit.
Hindu weddings are, again, extremely fancy. You should represent yourself in such a fashion. Be comfortable in your outfit choice, but to feel a part of the celebration, try to wear pastel or bright colors. This is an important part of Hindu weddings, and you should not wear red, white, or black.
Never wear jeans and a shirt for a Hindu wedding. It would be extremely inappropriate. Also, remember that these ceremonies are religious, and you should dress in modest clothing. Wear a dress, if you choose, but make sure you are covered.
This goes for men, too. They need to have their arms and legs covered for the ceremony and reception. It is respectful to their culture and the bride and groom. One other garment to have is a scarf to make sure your head is covered during the ceremony. Men can bring a handkerchief.
When picking a Western outfit, be yourself and follow those simple rules. You can wear an appropriate cocktail dress or a pantsuit and jacket. Just make sure to have fun with what you're wearing. It's also important to be comfortable. These three days full of events can be tiring and full of sitting, walking, and dancing. Being comfortable in what you choose to wear is crucial.
Can You Accessorize at a Hindu Wedding?
No matter what clothing you decide to wear to a Hindu wedding, wearing accessories like jewelry is a must. There's a saying that jewelry completes an outfit, and for this particular event, jewelry makes the outfit. If you showed up to a Hindu wedding without jewelry, participants would be shocked.
Just like the eye-catching clothing you'll be wearing, the jewelry and other accessories are important to wear too. Headpieces, bangles, and purses should all complement your outfit. Most of the time, gold pieces are worn to events like these, but purses can be bright colors.
Wear jewelry that makes you happy and is beautiful. There might not be another event like this where you're encouraged to wear your best jewels and show them off. Men should wear watches and have jeweled buttons. Neck collars and cuffs can be embroidered as well.
One accessory you may be wary of trying is a bindi. A bindi is an ornate sticker that goes on your forehead. It's very popular in the Hindu culture and may feel inappropriate to try as a Westerner, but other guests will not be offended. They will love seeing you embracing their culture!
Another accessory to think about and one that's very important is shoes. Like the rest of your outfit, accessories included, they should be formal. One huge thing women should remember is to make sure they have closed-toed shoes. It is respectful in religious ceremonies not to show your feet. So, when you're picking a pair of shoes to complete your outfit, make sure they're closed.
Make sure to bring a scarf or a pashmina to the religious ceremonies too. During these, you will be asked to cover your head. If you don't have a sari or extra fabric somewhere, these accessories will be there for you. They also add an extra layer of appeal too.
You might want to bring multiple scarves and pashminas to help change up your outfits if you're not able to buy thirteen outfits for the thirteen different events.
Men have a variety of accessories they can wear during the festivities too. Like women, it is important for men to show off these accessories. Mojris and jutties are colorful and ornate shoes that have beading and embroidery on them.
Shoes complete any outfit, and these show-stoppers do the same here, too. Men can drape scarves over their shoulders or wear a dhoti tied around their waists. These are staples in formal attire in the Hindu culture.
Since heads have to be covered for the ceremony, there are seheras that can be worn, too. They are similar to a bride's veil. These pieces may not be as flashy as a ton of bangles or beautiful headpieces, but they do elevate the outfit to a higher standard.
This may be intimidating for someone who doesn't typically wear jewelry. If you don't want to go crazy with jewels, the bare minimum you should wear as a girl is a few bangles on each hand. For men, they should at least have jeweled buttons. By just having these few items, you can fit right in with the culture and still feel comfortable and true to yourself.
Can You Dress Casually to a Hindu Wedding?
Whatever you do, do not dress casually to a Hindu wedding. This event is luxurious, and all guests should treat it so. There are different options you can do if you don't feel like you have the right outfit in your closet. Putting in a little effort to enhance what you already have will go a long way.
Traditional clothes, like saris, lehengas, and tunics, are available online. You can also reach out to friends and family that might be familiar with where to purchase said items locally.
Maybe someone you know has something you could wear as well and will potentially let you borrow them. Depending on how much you have to spend on wedding clothes will determine what you can do if you decide to purchase traditional clothing.
Western clothes are acceptable at Hindu weddings. Just make sure to follow the rules stated above. If you have a bright-colored dress that's sleeveless, you might only need to purchase an ornate scarf to cover yourself. Some people are more comfortable in pantsuits as well. As long as they're formal, you should be good.
There are vibrant, dressy pieces available in stores that won't break the bank. Shop around or borrow from friends. If men have gray or navy-blue suits, they may only need a few accessories to make their look more appropriate. A nice watch or a fun patterned handkerchief would work well.
Another way to make sure you're dressed for the occasion is layering jewelry. If you cannot find ornate clothes, having multiple necklaces will do the trick.
Just whatever you do, please do not dress casually.
Can You Wear Black to a Hindu Wedding?
It is not advised to wear black to a Hindu wedding. Wearing black is a big no-no. Black is an inauspicious color. It's also considered unlucky and could bring bad luck to the couple.
In Western culture, black attire is a staple. Most, if not all, women have a go-to black dress they can wear for weddings or other formal events. Do not be tempted by this dress when going to a Hindu wedding.
If you're still thinking about wearing black because these aren't your beliefs, you may have a lot of people looking at you, just not in a good way. Wearing black in a sea of bright, rainbow colors, you will most definitely stick out.
Men who choose to wear a Western suit are not advised to wear a black suit. There are other suit colors they could choose, such as navy blue and gray.
If men do not feel comfortable with traditional clothes, wearing a suit of either of these colors is a great alternative that will keep them comfortable and still in compliance with Hindu traditions.
Can You Wear Red to a Hindu Wedding?
You shouldn't wear red to a Hindu wedding. Wearing red to a Hindu wedding is just like wearing white to an American wedding. In a Hindu wedding, the bride wears either a red ghagra cholis, lehenga, or sari.
The color red is sacred in the Hindu religion and stands for prosperity and fertility. It also signifies life, just as the new bride is preparing for her new phase of life as a married woman. If you're a guest, leave the bride to wear red. There are so many other colors to choose from, besides one other.
Typically, Americans do not wear white to a wedding because that's what the bride wears. You also shouldn't wear white for different reasons when attending a Hindu wedding.
White is worn for funerals, which would be really strange to wear for a wedding. Also, if there are multiple ceremonies, and the couple decides to have an American ceremony as well, white will be worn by the bride, too.
The Best Colors for a Guest to Wear
Now that we know what colors that you definitely should not wear to a Hindu wedding, we're going to dive into the colors that are great to wear and why. As stated, all throughout this article, bright colors of the rainbow are celebrated.
Men should also feel comfortable wearing bright colors too. It adds to the festivities, and a lot of traditional clothes will be colorful. Keep in mind that most colors have significant representations that you can choose to showcase. Maybe what you wear will help bring whatever intention it signifies to the new couple.
Green is a festive color in Hinduism. It represents life, peace, and happiness. The color green also is closely related to nature. When one sees green, it helps stabilize the mind. If you choose to wear green for a Hindu wedding, you're embodying these feelings and moods. It will help bring the couple peace, happiness, and stability, too.
Yellow is an interesting color with a lot of different meanings. It represents happiness, peace, and knowledge. All of which are important for a guest to want to wish to the newlyweds.
Typically, single girls wear yellow to attract a possible suitor and to ward off evil. If you're a single female who may be looking for a potential date, wear yellow. It'll look beautiful with bangles and other accessories, as well.
Blue is a strong color in Hinduism. It represents the peacefulness in nature, like the sky and all the waters. Blue also has qualities of bravery and determination.
There is so much depth in the color of blue in Hinduism. When wearing it to a wedding, others will view you as a stable person who wants to bring strength to the couple.
Other colors to keep in mind are pastels or jewel tones. These go great because they are bright and are pretty against the accessories you'll be wearing too. Just remember not to wear black, white, or red! Any other color will be perfect!
What is Celebrated at a Hindu Wedding?
When you get invited to a Hindu wedding, you're going to be celebrating more than just the wedding ceremony like you would in a typical Western wedding. The wedding ceremony is just one component that can consist of the traditional Hindu one, and some may even have another Americanized ceremony, too.
The Americanized ceremony will feel pretty normal to other weddings you've been to, so you can wear what you'd typically wear. Before these ceremonies, there are three other days to prepare for what to wear.
In all, traditional Hindu weddings are three days filled with events. There are around thirteen different events for the wedding, and you likely need to change for each different event. Some events and the actions that take place will leave stains, like henna or turmeric, on your clothes.
If you do not have the option of buying thirteen different outfits, there may be quick changes to help with this. You could bring a variety of different accessories and layer appropriately.
Another option is to have the same staple outfit or two for each day and just top it off with different scarves. Usually, a wedding guest will save the most lavish outfit for the wedding ceremony and reception. The days and outfits should build up with the least formal the first and so on.
A quick outline of wedding events includes pre-wedding ceremonies, the wedding, and post-wedding ceremonies. The pre-wedding ceremonies are the Mehendi, Sangeet, Tilak/Sagan, Haldi, and Roka ceremonies. These ceremonies help ready both the bride and groom's friends and families as they prepare for the big day.
When preparing for these events, make sure to dress formally and comfortably. There is a lot of dancing at all the events, as well as interacting with other guests too. The post-wedding ceremonies are Vidaai, the reception, Blessing Ceremony, Mooh Dikhai, and the reception. You would wear what you would to the wedding for these events.
What Can I Expect at a Hindu Wedding?
Here is a sample program of how a three-day, Hindu wedding may look like and what you should wear.
The first day is a Hindu ceremony called Ganesha puja. This ceremony is celebrated at the bride or groom's home with family and friends. The bride does not partake in the ceremony until she arrives at the very end. Ganesha puja is to honor the Hindu God, Ganesh.
The evening is centered around an offering prayer to help the couple have a happy life. No Hindu wedding can take place without this ritual. When attending, a guest should dress semi-formal, but simple and comfortable. Light fabrics, like cotton or loose-fitting clothes, are recommended because there is usually a bonfire to end the nights.
On the second day, there is a Haldi and Mehendi party where both families get together for dancing and celebrating. At the Haldi ceremony, turmeric paste gets smeared on guests' faces. When picking out an outfit, make sure to dress nicely, but in something that you're more than likely going to get turmeric all over.
The Mehendi party is lively and filled with dancing. Wear bright colors, like pink and pastels. Just like the Haldi party, wear something semi-formal, but watch it's not an expensive outfit because there are henna tattoos that will be applied and could get on your clothes. Typically, the couples apply henna to their guests during the party. Afterward, you'll be encouraged to dance and the rest of the festivities.
The last day is the actual wedding ceremony and reception. One little tip is to build upon the outfit of the last day until you're fully glammed for the wedding and reception. Remember, try to wear something traditional and, if not, bright colors, modesty, and accessories.
Now you're set on what to and what not to wear to a Hindu wedding. While you're preparing to celebrate your loved ones' wedding, make sure to have fun and enjoy immersing yourself into another culture while looking the part!