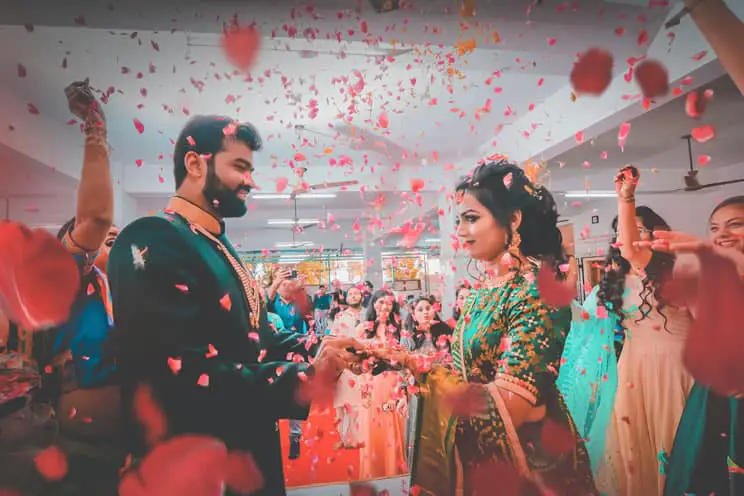 A traditional Hindu wedding is a beautiful three-day ceremony filled with meaningful rituals that have been practiced for hundreds of years. However, the cost of hosting guests and providing catering and décor for multiple days can add up quickly.
The average cost of a traditional Indian wedding in the United States is about $65,000 (4,761,500 Indian Rupees), and depending on your location and budget, the cost can even exceed $1,000,000. Typically, the wedding is paid for by the couple and their parents equally.
Several factors will determine the total cost. In this article, we're going to break down the many aspects of a Hindu wedding that will contribute to the cost and planning. Whether you are on a tight budget or looking for the most extravagant options possible, we've got you covered!
Traditional Hindu Wedding Expenses
The factors that will most influence the wedding expenses will likely consist of the following:
Venue
Catering
Jewelry
Bridal Outfits
Grooms Outfits/Accessories
Décor
Photography
Guests
Ceremony
Events
Entertainment
Transportation
Honeymoon
Planning
With careful planning, your expenses for a traditional Hindu wedding can be as little as $65,000. However, if you're going the extravagant route, you may see the total cost of your wedding reaching well above $1 million.
Venue and Catering
On average, the majority of your wedding budget will be for the venue and catering. The price range can be anywhere from $1,500 to $100,000. Some factors that will determine your venue and catering costs will be the location of your venue and number of guests.
Some options to consider when planning your wedding budget could include:
How many guests will be attending your wedding? You will be providing food, entertainment, seating, and a venue for your guests for 1-3 days. The number of guests attending your wedding will make a big difference in the total cost.
What is the location of your wedding? Popular destinations like Goa, Greece, and Las Angeles will be more expensive than venues in smaller cities. If your wedding is in India, a hotel on the outskirts of a major Indian city will be less expensive than a hotel in the city's heart.
What kind of venue are you looking for? The hotel you select will determine a large portion of your budget. For example, renting a venue at the Plaza Hotel in NYC will cost $375 per guest, per day with a 200 -guest minimum. A lovely hotel in California or Arizona could cost $50-$100 per guest.
Hindu Wedding Menu
The food served at Hindu weddings will vary by culture and region. Many families may choose to serve vegan food only, and some may choose not to serve alcohol. (In some traditional Hindu weddings, including Punjabi or Gujarati, the family may choose not to serve alcohol. The exclusion of alcoholic beverages can significantly reduce the cost of a 3-day traditional ceremony.)
Here are a few Hindu wedding menu staples that you will likely see or serve at a traditional Hindu wedding.
Dal Bukhara – A lentil dish made up of tomato puree, butter, and cream.
Gobi Matar – An Indian stir fry commonly utilizing cauliflower, ginger, and onion.
Jeera Rice – A traditional spiced rice dish made with cloves, cardamom, and bay leaves.
Jalebi – There are seven varieties of Jalebi made of variations of a crispy fried batter.
Amritsar Paneer Tikka – This is a popular appetizer made from fried paneer cubes.
Malpua – This popular food is a staple for celebrations and is similar to small pancakes.
Dilli Ki Chaat – A delicious spicey fried potato dish seasoned with chili and coriander.
Risottos – These rice dishes come in countless varieties.
Dahi Bhalle – This is a popular Indian snack made from chutney, potatoes, and various spices.
Assorted Indian Bread – Indian bread comes in many shapes and sizes. Some popular Indian breads include naan, parathas, and roti.
Of course, your budget for your wedding may change depending on which of the above traditional foods you choose to have catered. You also have the option of setting up a buffet that features any or all of these dishes.
Groom and Bridal Outfit and Jewelry
In the ceremonies involved in a traditional Hindu wedding, you could have five or more outfit changes as the bride and groom. The cost of these outfits can range anywhere from $600- $10,000.
One way to reduce the cost of these outfits and jewelry would be to use parents or grandparents as a resource. Because the bride or groom's parents may have only worn their wedding outfits once, many couples choose to wear ancestral family clothing and jewelry to their wedding. You can also consider renting jewelry or repurposing wedding attire later.
Note: In a traditional Hindu wedding, brides usually wear these 16 adornments:
| | | |
| --- | --- | --- |
| Adornments | Description | Price Range |
| Wedding Dress | Brides wear a sari or lehenga in red and gold. | $500-$12,000 |
| Itar | An essential oil derived from the attar flower | $20-$200 |
| Sindoor | A red powder applied by the groom on the part of the bride's hair | $5-$50 |
| Bindi | The Bindi is inspired by the goddess Parvati and is a red dot made from turmeric powder placed on the center of the forehead or the sixth chakra (third eye chakra). | $5-$20 |
| Mangtikka | This is jewelry that is placed along the part of the bride's hair. | $20-$200 |
| Kohl | Black eye makeup made from ground stibnite | $10-$50 |
| Haar | Traditional necklace with many variations | $40-$100 |
| Nath | A nose ring attached to the bride's hair by a thin chain | $20-$50 |
| Karam Phool | Traditional bridal earrings | $20-$300 |
| Baajuband | This piece of jewelry is an arm cuff worn on the bride's upper arm | $30-$1,000 |
| Keshapasharachana | Traditional wedding hairstyle consisting of three braids | $75-$300 |
| Choodiyan | Bangles or metallic bracelets | $15-$100 |
| Mehndi | Also known as henna, these traditional designs are worn on the bride's hands and feet. | $160-$720 |
| Kamarband | This piece of bridal jewelry is a golden belt, sometimes featuring precious stones. | $30-$100 |
| Paayal and Bichus | This is an anklet with several bells. | $10-$50 |
| Aarsi | A thumb ring | $20-$100 |
Wedding Décor
Just like any wedding, the décor can be as inexpensive or extravagant as your budget permits. For couples who will spare no expense for their wedding ceremonies, there is no shortage of expert wedding planners near you who specialize in traditional Hindu weddings.
If you are looking to do it yourself, we recommend sourcing seasonal flowers from your local farmers market and recruiting family and friends to help decorate your venue. Using reusable silk flowers is another cost-effective way to prevent waste, and still have a beautiful ceremony.
Other Costs to Consider
Because a wedding is a precious and memorable time for families and friends, you will likely choose to have a photographer/videographer to capture these priceless memories. The photographer, entertainment, transportation, and other costs will quickly add up within your budget.
One of the greatest resources available today is a wedding budget calculator. One app explicitly made for Hindu weddings is WeddingWire's cost calculator. This app is an excellent tool that will help you figure out the costs of all the intricate ceremonial details unique to Hindu weddings.
Traditional Hindu Wedding Costs by Event
The cost of each event will vary significantly by location and selection of vendors, décor, and entertainment. The price ranges listed below are calculated by the average cost of a mid-priced to 5-star venue with a guest list of 300 people.
Keep in mind these costs can be reduced by inviting fewer guests, selecting smaller venues, and many other cost-effective options. We will describe more ways to save money later in this article.
Mehndi
Mehndi or henna, is one of the 16 adornments given to the bride during a Hindu wedding ceremony. This usually takes place the day before the grand wedding ceremony. The word Mehndi comes from the Sanskrit word "mendhika" or henna plant. The origins of this ritual can be traced back to the bronze age.
In the Mehndi or henna ceremony, the family will come together to celebrate as the bride, and some family members, are adorned with traditional henna designs covering the hands, feet, arms, and legs. Typically, the bride will wear a light green Lehenga or outfit, and the ritual is accompanied by music and dancing.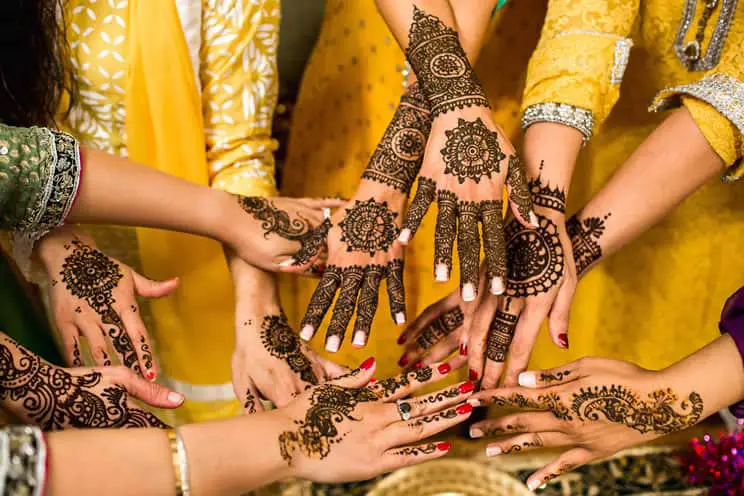 The event usually takes place in the early afternoon, and fewer guests may attend.
Venue/Catering – $8,750- $30,600
Entertainment, Décor, Photographer – $1,000-$15,000
Total – $9,750-$45,600
Sangeet and Garba
After the mehndi ceremony, the wedding guests will attend a sangeet. The word "sangeet" comes from the Sanskrit word "Gaun" meaning "sung together."
In this ceremony, guests will come together for music, dance, and entertainment. Often, the bride and groom's families will sing and dance to songs about marriage and family life; sometimes, dances are professionally choreographed.
Venue/Catering – $15,000-$52,000
Entertainment, Décor, Photographer – $1,000-$25,000
Total – $16,000-$77,000
In some cultures, this is also followed by a Garba. Garba is a traditional dance that involves the wedding guests coming together, sometimes dancing in pairs with dandia (ornate ceremonial sticks). Today the sangeet has become the center of the pre-wedding ceremonies.
Today, families will enlist the help of event planners, entertainers, and choreographers to host elaborate sangeet ceremonies that include all wedding guests rather than just close friends and family. Some families will even hire celebrity performers and Bollywood stars to attend.
The Wedding Ceremony & Reception
The wedding ceremony is comprised of many rituals. Not all Hindu weddings are the same, depending on the region the families are from, so some of these rituals may or may not be included.
The main ceremony will consist of a procession to the venue or "baraat." This is the procession the leads up to the grand wedding ceremony. The groom will be transported to the venue riding an elephant, horse, or a nice car, accompanied by his friends and groomsmen or "baraatis."
The ceremony itself, which takes place under a Mandap or arch, can last around 2-3 hours, followed by the reception. The ceremony is known for its upbeat, exciting music, singing, and dancing. Like so many moments in a traditional Hindu wedding, this is a wonderful opportunity for memorable photos.
The Wedding Reception
The wedding reception is much like a wedding reception in other cultures. A Hindu wedding reception is known for its color, dancing, and delicious food.
Venue/Catering – $15,000-$52,000
Entertainment, Décor, Photographer- $1,000-$25,000
Mandap – $250
Priest or Pandit – $1,000
Total – $17,250-$78,000
Who Pays for the Wedding?
Because engaged couples today are typically older and often employed, the expense will be split evenly between the bride, groom, and their families. In previous generations, the financial agreement would be dependent upon the type of marriage. According to the ancient Hindu scripture Manu Smrti, there are eight types of marriage.
In the past Hindu weddings would fall into specific categories according to the bride and groom's age, class, and region of origin. For example, in an Arsha Vivaah marriage, the groom would pay a dowry to the bride's family and would take responsibility for all wedding expenses. In many Hindu marriages, the bride's family would pay for the wedding and offer a dowry to the groom's family.
Today, the financial responsibilities are distributed according to tradition; this is an agreement with many variations. If one side of the family desires to have a more elaborate ceremony at one or more events, they will likely pay for the expenses associated.
Groom – The groom and his family are usually responsible for providing lodging and transportation for guests. They are also responsible for the groom's clothing and any costs associated with the baraat (groom's wedding procession). The groom's family will commonly pay for the couple's honeymoon.
Bride – The bride and her family are often responsible for the ceremony, venue, catering, and outfits. Most people agree that the bride's family is financially responsible for the majority of wedding expenses; however, this is not always the case.
Tips to Save Money on a Hindu Wedding
If you are looking for ways to save money while planning your traditional Hindu wedding, here are a few budget-friendly tips to help lower your expenses:
Have your wedding or pre-wedding ceremonies at home. Even if you want a unique venue for your grand wedding ceremony and reception, you can still host your pre-wedding ceremonies at home. Because the venue is typically the most expensive wedding component, this will have a significant impact on your total budget.
Make your own decorations. Both YouTube and Pinterest have several great tutorials that will teach you to make beautiful, cost-effective décor.
Mix up your centerpieces. Choosing to decorate your tables with fewer flowers and more vases, jars, candles, or photographs will help to save money and provide a unique touch to any of the events. Even if you love flowers, choosing colorful vases with fewer blooms and filling your reception with romantic candelabras will still provide your guests with a gorgeous atmosphere.  
Because the majority of wedding expenses will be for venue and catering, having a shorter guest list of 100 guests or fewer will save a significant amount of money. We understand that this might not be an option because of family preferences, but even cutting the guest list from 500 to 400 will make a big difference in your budget.
Host your wedding during the week rather than the weekend. This choice could save hundreds or even thousands of dollars, especially if you have selected an expensive venue. Fees are significantly greater on weekends, particularly Saturdays.
Avoid spring and summer wedding dates. Everything from catering to flowers will be more expensive during the busy wedding season. Instead of a May wedding, compare venue prices for hosting your wedding in February or December.
Find a photographer who is new and seeking to build their portfolio. Reserving a photographer for three days can be expensive. Today, social media is an excellent tool to find great photographers who are advertising discounts in exchange for experience.
Consider utilizing paperless invitations or select an option that doesn't require an envelope. Eliminating unnecessary costs will add up to significant savings. Removing the need for envelopes by making a postcard style invitation is an easy way to save.
Rent a house or castle as your wedding venue. Rather than renting a ballroom for three days, renting a house can help save money on the venue and lodgings for out of town guests. This is an amazingly cost-effective way to find a beautiful venue and provide family members with a great place to stay. Check out Airbnb or VRBO, where you can rent mansions and castles for less than it costs to rent a ballroom in a 5-star hotel.
Final Thoughts
There are several features available to families who are planning a Hindu wedding. As we have described, the options—and their respective costs—available for this special event are seemingly endless. With the help of technology or a good wedding planner, it is easier than ever to plan an unforgettable wedding that the whole family will enjoy.
Photo credits:
Garba – Ed Uthman from Houston, TX, USA / CC BY-SA (https://creativecommons.org/licenses/by-sa/2.0)