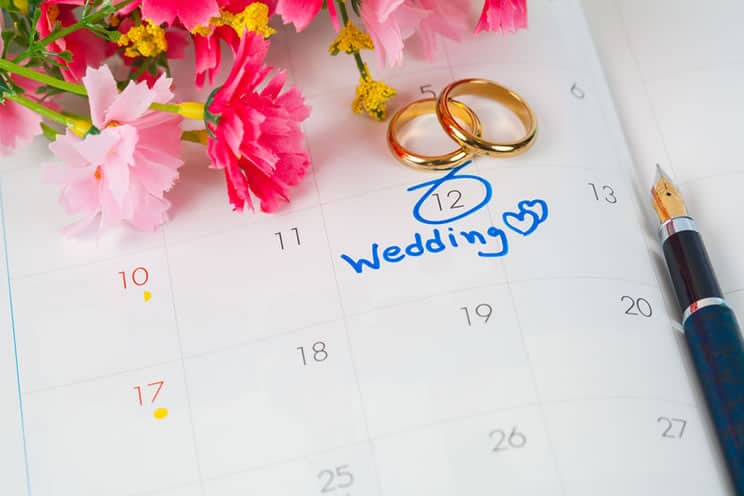 Planning a Hindu wedding can sometimes seem like a monumental task. Between the events, catering, guest list, the ceremony—and everything else involved—it can be challenging to know where to begin. How do you plan a Hindu Wedding?
To plan a Hindu wedding, you should:
Talk about your plan with your partner
Discuss the plan with your families
Research and book major services one at a time
Wrap up smaller details
That's just a basic list. We've put together a detailed 4-step battleplan that you can use to tackle your Hindu wedding. We'll go into much more detail about each step in the process below, so read on!
Talk with Your Partner
Before you do anything, you should sit down with your partner and talk about what you'd both like out of the wedding. This may involve some compromises since it's going to be very hard to get exactly what you both want.
The ultimate goal of this step is to plan out what you both want from your wedding. This gives you a plan to take to both of your families to discuss later.
Your Priorities Together
The first thing you two should decide is what exactly your priorities are for the wedding. Knowing that both of you can agree on priorities together makes later decisions so much easier!
Some questions to ask include:
How important is the religious aspect of our ceremony to us?
How important is having it in a beautiful location?
How important is having the traditional three-day wedding?
Those are just a few starter questions. Overall, you two need to decide exactly what your priorities are together, because that will influence almost all of the future decisions for your wedding.
What's Your Budget?
This is one of the hardest questions to discuss. Budgeting for a Hindu wedding can seem like a seriously daunting task.
The best thing to do is just to face it head on and lay out what your total budget for a wedding will realistically be. By having a total number on paper, you can then start breaking it down and budgeting a certain amount for each category.
Your priorities together will factor into this, too. They will help decide exactly how much you'll be spending and on what. Some other budget considerations include:
Will either of the families be helping with the costs?
Would you be willing to have a wedding in a non-peak season to lower the cost?
How much more money could you two save before the wedding?
How much money do you want to reserve for the honeymoon?
In the end, breaking your total number down into how much you'd like to spend on each section is a key part of successfully budgeting for your Hindu wedding.
What are Some Dream Wedding Locations?
Once the two of you know how much you plan to spend, you can discuss where you'd love to have your wedding. This is the time to have a little fun!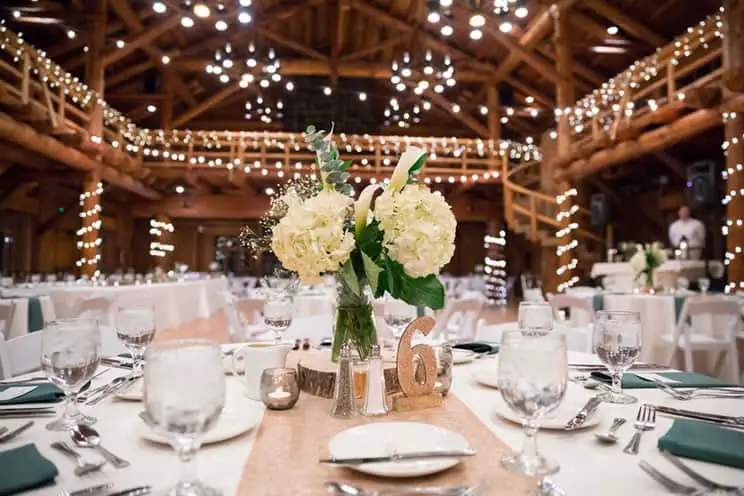 Think about all the awesome places nearby you could have your wedding. Keep it mostly realistic, but don't be afraid to think outside the box, either! You never know, you could get a nice surprise and be able to snag your dream spot!
Here's some ideas to think about during this time:
Do we want a destination wedding?
How far are we and our families willing to travel?
What sort of view do we want to get married in front of?
Are there areas nearby that have better or worse weather?
What's important to us about our dream wedding location?
By answering those questions, the two of you can narrow down exactly what you want from the location of your wedding. This will be super important once it comes time to choose a venue.
How Many People are You Inviting?
Everyone who's been to a traditional Hindu wedding knows just how crazy the guest list can get. Even a small Hindu wedding usually has close to 200 guests, according to event planner Jignasa Patel. Thinking about that number ahead of time can make it seem like a headache-inducing task to feed and entertain everyone.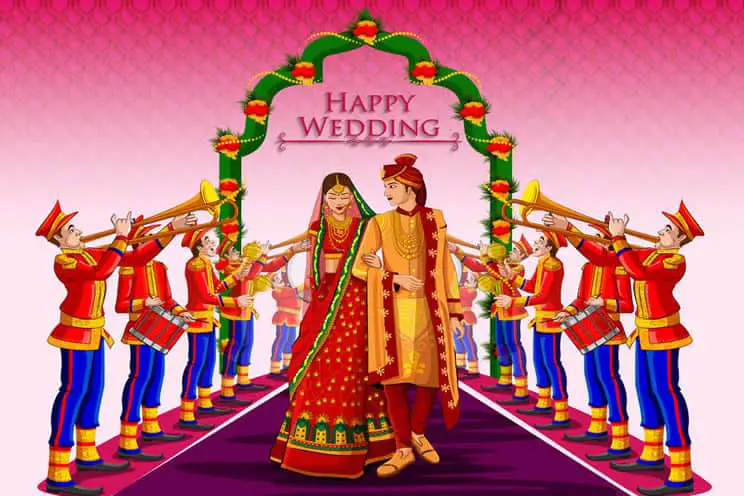 When deciding how many people you are going to invite, you should be realistic. Even if the two of you only want a very small wedding, both your parents will surely expect you to invite the entire family. It can be very difficult to say no, especially if they are helping to pay for the wedding.
So, when the two of you estimate how many guests you expect, keep it realistic. Remember that while it may be hard to accommodate everyone, at the end you'll have a beautiful, vibrant, and fun celebration because of it!
What Do You Want from Your Venue?
Now that you know where you would like to get married and how many people you plan to invite, you can start doing some concrete research about venues that meet your requirements.
The location and beauty of a venue is important, but there are plenty of other things to consider, like:
Is the venue within our budget for the time we want?
Does the venue provide certain amenities itself?
What will the venue experience be like for the guests?
Have other people been happy with the venue in the past?
Does the venue have a list of preferred vendors, or will they work with any vendor?
You should really be looking for a venue that fits your budget, provides scenery you two enjoy, and has a great reputation.If the venue has a terrible reputation or history with lots of unsatisfied couples, then beware—no amount of good planning can save a bad venue.
What Structure do You Want the Wedding to Have?
Traditionally, Hindu weddings take place over several days and are chock full of different ceremonies and celebrations. Since the world has modernized and the cost of weddings has increased significantly, Hindu couples are opting for single day ceremonies.
It's important that the two of you decide which you'd like to pursue as a team. Here are some options to consider:
Have a traditional three-day ceremony, but have the leading two days be less extravagant than the third to save money
Perform parts of the ceremony at a relative's house or property so you only have to book the venue for less time
Consolidate your budget and throw a single-day ceremony which is very extravagant
The key point is to consider your budget and preferences and then choose a wedding structure that accommodates both as best you can.
Consult the Families
So, now you two have your battleplan put together. You know:
Your priorities
Your budget
Where you'd like the wedding
How many guests might be there
What the structure will look like
The next part is to take this plan to both of your families. Traditionally, Hindu parents are fairly involved in their child's wedding. Putting a Hindu wedding together is a lot of work! Having extra people to delegate tasks to is very useful. Their help will allow you to make sure the wedding goes smooth.
The other side of having your family be so involved is that they'll want to review your plan with you and make changes or suggestions. It's important for the two of you to have decided on a plan before bringing it to the family, since this will help you maintain more control over your special day or days.
Relay What Your Priorities Are
When you first sit down with your family, start by telling them what you've decided is very important to you. These are things that you really don't want to change or budge on. Some typical things that can be helpful to tell them are:
Events or ceremonies you really want included
Things which are important to you about the ceremony
Your decisions about guests and structure
Telling your family what's most important to you gives them a better chance of understanding your priorities and working together smoothly. It also lays good boundaries because it shows that you are willing to budge on certain things, just maybe not as much on these core items.
Talk About the Budget as a Team
Now it comes time to tell your family what your budget is. This may make you feel a little embarrassed or vulnerable, especially if your budget is low. However, it's really important to be honest and lay it all out on the table, since this means they can better understand why you've made certain decisions about your plan.
This is the place for them to tell you what they can do to help out, as well. Hindu weddings are a community affair, and almost all Hindu parents are willing (and expected) to help pay for the ceremonies.
Here are some things you should talk about:
Where they would be willing to help out
Do you have any events or other things you'd cut from your plan because they were too expensive? (They may be willing to pay for them since they're important to you)
Do they have expectations or strings attached to their financial help?
Ultimately, this part is very personal and comes down to you and what your relationship is with your family.
Ask If They Have Any Special Requirements for the Venue
You two have put together a list of criteria you want your venue to have, and now it's their turn to add on things that you may not have thought of. This can be amenities or some oversights you may have had.
Items they might bring up include:
Is the venue appropriate for all members of the family?
Does the venue have ramps or elevators for elderly or disabled guests?
Are there any annoyances you may have missed, like lots of bugs being around?
Both of your families likely have more experience in planning a Hindu wedding than you do, so this is a fantastic opportunity to ask for some of their wisdom! Additionally, they've almost certainly attended many weddings throughout their lives, so they can relay to you what things are most important to guests.
Does the Venue Need to Be Close?
An important part of choosing a good venue, or good Hindu wedding location for that matter, is making sure the venue is in a spot where most of your invited guests will be able to reach it. This may rule out a destination wedding, because it would be very hard to convince your families to agree on a wedding in a place where much of your family and community won't be able to attend.
Discuss Venue Options
Now is the time to look back over your venue options and make sure they have any extra items your families brought up. You may need to do a little more research, since your families may have brought up questions you didn't think to ask when you did your initial research.
Together with your families, narrow the venues down to a short list which meet all of the criteria you want.
See How Many Guests They Planned on Inviting
While you and your fiancé may have plans to only invite a small number of people, a traditional Hindu wedding can involve as many as a thousand people. Your families will likely have a large list of people they planned on inviting, like:
Extended family
Family friends
Members of the local community
A traditional Hindu wedding is focused on celebrating the union as an entire community. Expect your families to want to invite a long list of people. This is a great time to bring up your budget, as well. You can let them know that the reason you kept the list shorter was because you didn't have the money to feed and entertain everyone, and if they want to invite more people maybe they can help out a bit.
Do They Want Any Extra Pieces?
Lastly, find out what they think is important to a Hindu wedding! Like we mentioned above, they will surely have been to countless other weddings in their time, so they can tell you things like:
What events are the most fun and important to guests
Common mistakes to watch out for
Any traditional events or items that you missed, but are important
Tips on how to make the most of the day (or days)
This is your chance to glean any extra wisdom from your families that you can!
Hit the Research!
Now that you've got the game plan sorted, it's time to start actually doing some research and hiring services. This includes items like:
Food and catering
DJ, music, and entertainment
Hair and makeup stylists, including a Mehndi artist
Photography and videography
Florist and other decorative items
This can seem daunting, but we've put together a checklist below to help guide you through the initial "big services" and items you'll want to snag first.
Look at Food Options
When it comes to food options for a Hindu wedding, you're looking at catering a large group. Probably a few hundred people, if not more.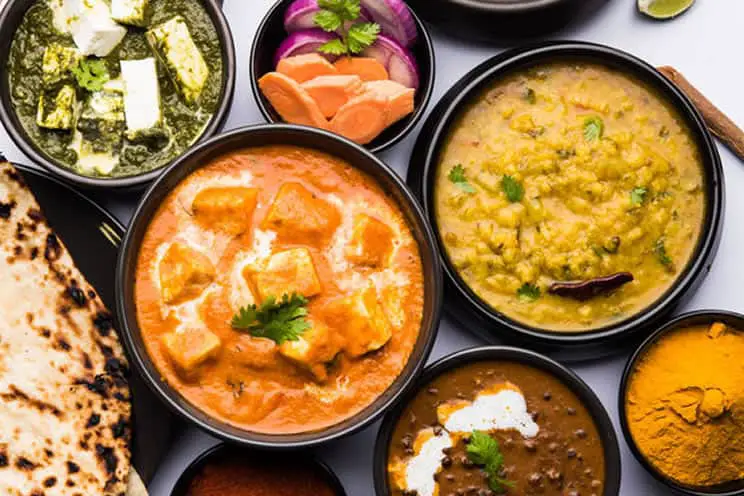 It can be difficult to find a catering company who can feed that many people high-quality food at once—especially at a price per plate that isn't going to blow your budget. We've put together a few tips to help you find a good caterer and save money at the same time:
Keep an eye out for discounts and special rates that caterers will offer. Sign up for their mailing lists, visit their webpages often, and even call to ask if they have any special offers happening.
A buffet dinner will cost much less than a traditional plate dinner, but it doesn't have to be any lower in quality.
Save the fancy food for dinner and serve more casual foods during the other events and ceremonies. Ultimately, if the food tastes good, almost nobody will care that it wasn't high-end.
Make sure your venue allows outside catering, and ask what their fees may be. If your venue offers catering services, like at a hotel, then they'll likely charge you a "kitchen fee" for having another catering service set up shop in their space.
Get Your DJ Sorted
Once the ceremonies are all over, everyone is going to want to party. Having a great DJ on deck is vital to making sure your reception and afterparty go smoothly. A good DJ does a lot more than just play music, they're responsible for:
Emceeing the wedding—introducing the bride and groom and making announcements
Working the crowd—making sure the crowd is involved and not afraid to get up and dance
Reading the room—knowing what music to play and when
Running your Baraat—making sure the groom's entrance party is lively and fun
As professional South Asian Event DJ Ajay Manaktala says,
"…a professional party expert knows how to hype the crowd and get the oldies and youngsters all on the dance floor to share this celebration with YOU."
Look up DJ's in your area and make sure they fit in with the type of wedding you want to throw by checking out their social media. Don't underestimate the value of a great DJ in making your wedding a very special event!
Make Sure You Book a Good Stylist
Booking a good stylist ahead of time is going to take a little more effort than you might think. A Hindu wedding is a vibrant and beautiful celebration, and with all the pictures being taken and memories being made that day, you want to make sure the stylist can get your look exactly how you want it.
In order to help make sure this happens, it's best to do what's called a "trial" with a few different stylists. It's exactly what is sounds like—you go in ahead of the wedding, talk with them about what you want, and then they show you what they can do.
So, narrow down a list of a few stylists whose work you really like, then use these tips to choose the final:
Bring your headpiece or any other hair items, like your dupatta, that you'll be wearing on the wedding so the stylist can show you how they'll work around it
Bring pictures from magazines, websites, movies, or any other inspiration you have for your hair. This will help you explain to your stylist exactly what you want.
Take pictures when they are done! If you don't, then you'll only have memories to compare when you do your other trials. Having pictures taken from all angles of your look after they're done means you can do an honest review at the end.
Once you've done the trials with your short list of stylists, choose which one was easiest to work with and did the best job within your budget. Book them as soon as possible to make sure you get them on your wedding day.
Plan Ahead for Flowers
Much like a stylist, you should be aiming to book your flowers well in advance. The sooner you talk to a florist, the better chance you'll be able to get exactly the flowers you want since some flowers or decorations have to be ordered far in advance.
In order to help keep the cost down and find a good florist, keep these tips in mind:
Any flowers or other decorations that are out of season will cost a lot more to have at your wedding since they must be ordered in from special green houses
Ask the florist if any of the flowers you chose are strong smelling! Having too many strong-smelling arrangements at a wedding can lead to a strange smell as they mix, or even a headache for those with sensitive noses.
Book a Good Photographer
Booking a good photographer or videographer for your wedding is much like booking a good DJ. You'll want to:
Research their social media to see their work
Seek out reviews from their past clients to make sure there aren't hidden issues
Get a price sheet from a few different photographers to compare
Book your photographer well in advance, as the best ones will go fast
Additionally, think about the photographer's past experience. If they aren't Hindu and haven't attended any Hindu weddings, they might find it difficult to properly capture all the craziness and fun it will be.
Find a Mehndi Artist
If there's one thing you really don't want to skimp out on, it's your Mehndi artist. Unlike other services, if they do bad work, you'll be reminded of it for weeks after the ceremony!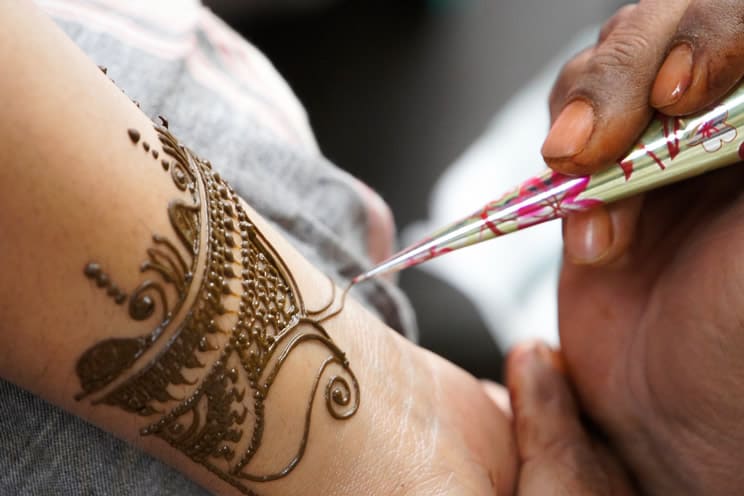 Really take the time to meet with several artists and preview their work. Even think about doing a trial Mehndi piece somewhere on your body beforehand to see the quality and style. You could even have each artist do a small piece right next to one another on your body, that way you can compare them easily.
Take Care of Details and Enjoy!
You've booked all the major services and you have a good game plan for your wedding. Now it's just time to give some attention to the smaller details, plan for the unexpected, and take some of the load off your shoulders!
Get the Payments in Order
Getting the payments in order as soon as possible means a huge weight will be lifted off your chest. You won't have to worry about things like:
A service canceling because you forgot to pay the deposit
A venue requiring more deposits or fees you forgot about
Having missed anything during planning, because comparing your budget to your actual expenses will show a big gap if you did.
That last point can actually be very helpful. For example, if you see that you still have a strange $500 gap in your budget somewhere, it could be a sign that some portion of planning had slipped your mind. Now is your time to catch it.
Plan for Unexpected Issues
A Hindu wedding is a big and complicated affair, and that inevitably means that some things won't go as expected. This is totally normal, so don't worry!
However, brainstorming a few ways that things might not go as expected, and how you'll handle that on the day of, can shield you from any sudden unfortunate surprises. Think about things like:
What if the weather turns terrible? Do we have an inside space we could perform the ceremonies?
What if some of our guests have too much to drink? Do we have an area where they can take a break?
What if some of our guests arrive too late?
Those are just a few ideas to get you started. The idea isn't to get you freaked out about all the things that could go wrong, just to prepare plans for common things that may pop up.
Spread the Load with People You Trust
Our last tip, though certainly not the least, is to spread the work around to people you trust! Being able to delegate tasks will take a lot of the pressure off of you as a couple. Maybe have:
Your mom field calls from the florist or stylist, answering any minor questions
Your dad or grandfather do the negotiating with the venue or caterer
Your best friend come with you to the stylist and Mehndi trials
It can be hard to put that much trust in other people, and it's ultimately up to you to decide whether or not you believe they can do it. However, don't be afraid to delegate tasks, especially if the planning is just getting too much for you to handle!
Planning a Hindu Wedding
Your Hindu wedding is going to be a vibrant, colorful, fun, and significant celebration. While the celebrations and ceremonies themselves are a blast, the planning can be incredibly daunting at first glance. Remember to break the planning into these four phases:
Talk about your plan with your partner
Talk with your families about the plan
Research and book major services one at a time
Wrap up smaller details
Don't let yourself get too overwhelmed by any one phase at a time. Just follow our 4 step battleplan, take each phase at a time, and you and your partner will be enjoying your incredible Hindu wedding in no time!
Sources:
https://www.indianweddingsite.com/wedding-ideas/iws-blog/2010/07/20/guide-hiring-an-indian-wedding-hair-stylist
https://rachelchoflowers.com/flower-stories/the-significance-of-flowers-in-indian-weddings
https://www.sodjla.com/post/how-to-pick-wedding-dj
https://www.interflora.in/blog/Tips-for-choosing-the-best-Indian-wedding-garland-designs
https://www.theknot.com/content/steps-to-finding-wedding-florist
https://www.weddingideasmag.com/wedding-day-disasters
https://www.theknot.com/content/indian-brides-wedding-planning
https://www.brides.com/hindu-wedding-ceremony-rituals-traditions-4795869
https://indianweddingtoolkit.com/indian-wedding-planning-checklist
https://themaharanidiaries.com/ways-to-budget-for-your-indian-wedding
https://www.brides.com/hindu-wedding-ceremony-rituals-traditions-4795869#:~:text=Just%20remember%2C%20you%20won't,thousands%2C%20even%20in%20the%20U.S.%22
https://www.sodjla.com/post/negotiate-your-indian-wedding-hotel
https://www.weddingwire.com/wedding-ideas/save-money-on-wedding-catering