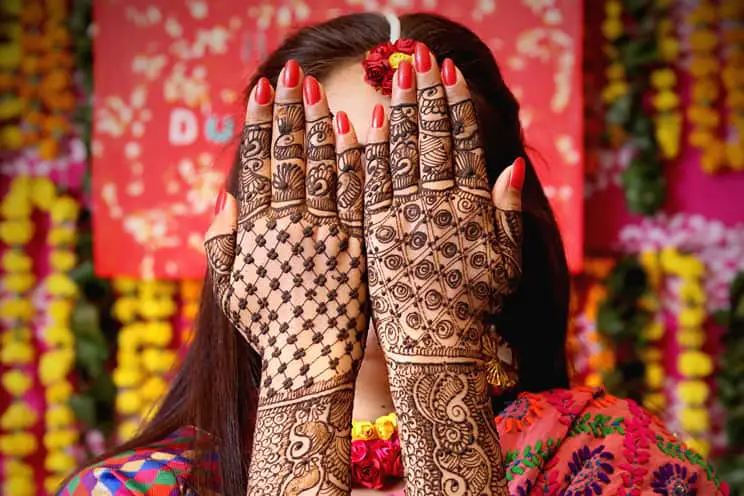 The Mehndi ceremony is an essential and highly anticipated bridal event where the bride-to-be receives an intricate henna application in preparation for the wedding. This custom has been passed down from century to century and is regarded as the most important pre-wedding function for the bride.
Just as there are 16 Samskaras to mark each important event in a Hindu lifestyle, there are 16 bridal adornments to be donned on the special day. The mehndi is one of those adornments. On her wedding day, the bride is crowned with bindi and jewels and is laced with an intricate mehndi design.
However, the farther back a tradition reaches, the harder it is to remember why it exists in the first place. Here, we'll explore why the Mehndi ceremony is an honor and a must for Hindu weddings.
To skip a Mehndi celebration would be unorthodox, to say the least, but why is it so important in the first place? Let's get to the roots of why Mehndi is valuable to any Hindu wedding and see how it illuminates the beauty of the bride and creates a wonderful memory for all involved.
For the purpose of this article, we will refer to the paste as henna and the bridal design and ceremony as Mehndi.
Why a Mehndi Ceremony is Important for Hindu Weddings
People of many different backgrounds, cultures, and faiths in India, North Africa, and the Middle East have been using henna for thousands of years. Some experts believe that ancient users would plaster on the paste as a sort of sunscreen to help keep the body cool.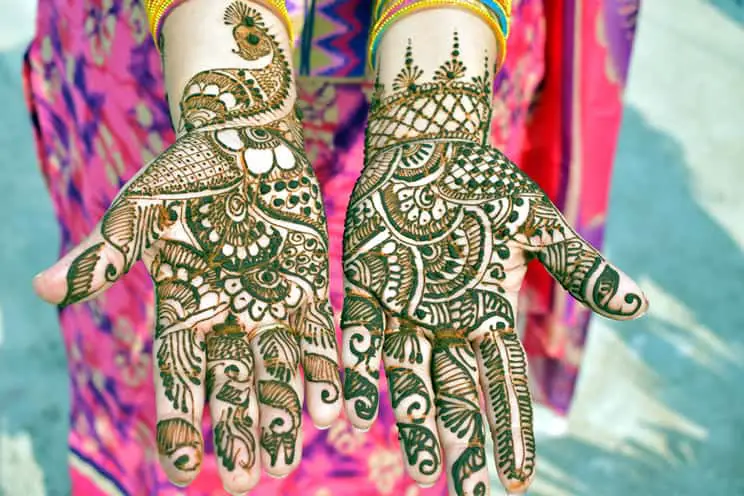 Historians differ on the exact moment that the henna plant was brought to India, but speculation ranges from the 12th to the 15th century, and to even Pre-Vedic times. After it was introduced, royalty would decorate their palms with a solid, basic coating of the paste.
The Beginning of Henna Designs
As tastes changed, and ingredients became more available, henna designs evolved into intricate and unique creations, and these decorations became a staple of holidays, celebrations, and ultimately weddings. 
In fact, as a further link between history and religious custom, if you browse through the Indian collection of any prominent museum, you will likely find 17th-century paintings with Hindu goddesses like Durga, Parvati, and others with henna-dyed hands.
So, if this paste is so valuable that it stains the hands of goddesses and royalty, it must require exotic ingredients, right?
Actually, the recipe for a beautiful, temporary accent is quite simple, and the ingredients are easy to acquire. Let's see what it takes to create a henna paste and how it was possible to make hundreds of years ago with the same ingredients that are used today.
What Henna is Made Of
There's a different word for henna within every culture, but the basic ingredient is the same. The henna shrub, known scientifically as Lawsonia inermis, grows in the tropical and subtropical climates of Northern African and Southern Asia.
To prepare the paste, the henna leaves are dried and ground into powder. From there, the powder would be mixed with a few ingredients to form a thick paste for staining the skin.
From The History of Bridal Mehndi – How the Tradition Came to Be, these ingredients could include:
Tea
Coffee
Sugar
Essential oils
Lemon juice
Henna was, and is, also used to stain nails, hair, and clothing. In some cultures, men use it to dye their beards and also paint boys with it during rites of passage. Later, we'll explore how to make your own henna paste in case you want to practice or become a professional yourself.
However, just as mehndi designs transformed from stained fingertips into the beautiful symbols and stories we recognize today, they are continuously changing along with the talents of contemporary artistry.
Modern Mehndi Elements
The ingredients mentioned above are used to improve longevity and darken the color of the mehndi. Still, today, brides are venturing out to try mehndi with different pastes and materials for a new twist on the traditional design.
Standard henna paste dyes the skin a reddish-orange color, but it's not unusual to see brides sporting tattoo-like bold, black lines.
And some brides, likely to be unmatched by their friends, opt for white henna, which naturally exhibits a lacey, frilly look, and can easily complement a white dress and a Western-themed wedding.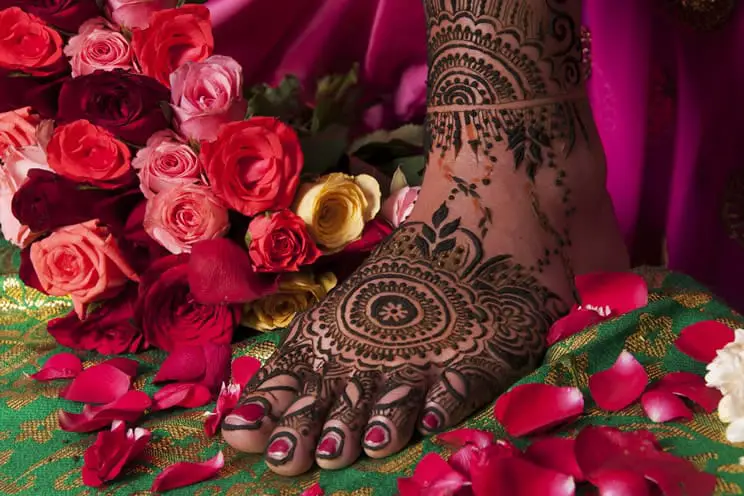 Still, other brides are trading in the older, conventional styles for more colors and ornaments. You'll find every color of the rainbow in modern henna designs, and the arms and legs of brides are adorned with jewels fitted into the design.
These creations pop with creativity; they can be awash in glitter, laid with metallic paints, or brightened with multiple colors. If you can, imagine the red wedding dress paired with a complimentary blue, purple, or red mehndi design – it's a photo op that many can't resist.
The obvious downside to this school of fashion is its rebel nature. But, if you don't mind a few frowns and still want to add a bit of spice to your beautification process, remember that it's your one and only bridal mehndi to do with as you please.
Now let's talk design, the most exciting, and possibly the most difficult element to decide on. By its nature, your mehndi will be as short-lived as a blooming flower – undoubtedly, you'll want it to be beautiful, unique, and memorable when the spotlight shines.
Here are a few ideas to spark your imagination so you can take your moment when the time comes.
Culture-by-Culture Henna Designs
For a quick reference, check out this book for all you need to know about creating gorgeous mehndi designs. When it's time for the big celebration, and you can't quite put into words what you want, you'll be able to point out different designs and examples to your artist.
Many of the designs we see today already incorporate cosmopolitan ideas and trends in order to stand out from the rest. Use the special creations below as a reference for what you'd like to do for your own mehndi.
India
When most people think of henna designs, they're thinking of Indian/Hindu designs, and for good reason: these tend to be the most painstakingly elaborate designs out there, crafted for a once-in-a-lifetime event. To many, marriage, or the Vivaha Samskara is considered to be the most important and holy event in a Hindu's life.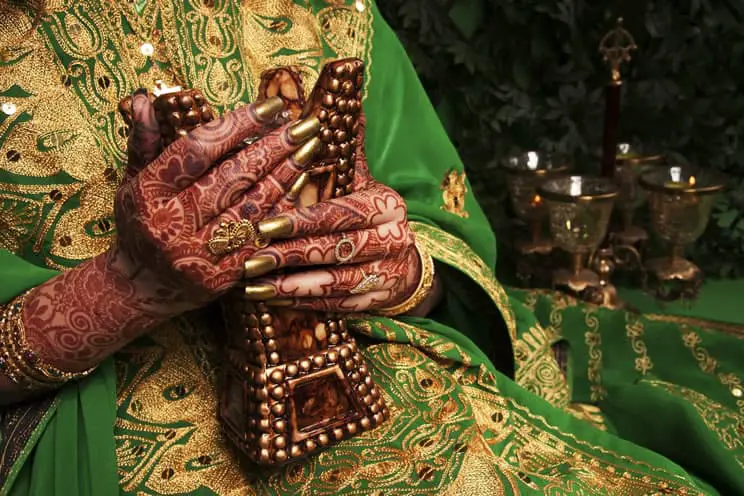 For the purposes of a Mehndi party, brides will be decorated with these traditional elements:
Flowers – Whether it's permanent or temporary, when it comes to body art, you can't go wrong with flowers. Florals are a very important part of any Hindu wedding, with the bride and groom exchanging garlands during the Jai Mala, or Varmala, portion of the ceremony. Typical designs include roses, marigolds, jasmine, and more.

Paisleys – A prominent symbol throughout India and the Middle East, in India, the paisley is a symbol of fertility and is drawn onto the bride in a curled, cashew-shape.

The Bride and Groom – Many artists like to draw the groom on one palm and the bride on the other, often facing each other. Today, in a special modern update, brides are requesting that artists incorporate a simple image of the meet-cute with their groom.

The Groom – One fun, creative tradition involves a mehndi artist working the groom's name into the mehndi, with the groom being required to find it by the end of their wedding day.
Middle Eastern/Arabic
The word henna is actually derived from the Arabic term "al-hinna." Though there are brides who enjoy hosting henna parties all throughout the Middle East, it's more of an option for weddings.
But for holidays like Eid, or even Ramadan, women can celebrate in style by flaunting beautiful designs on their hands and wrists. With a focus on Arabic designs, here are a few staples you may see on a woman celebrating a holiday.
Flowers, Vines, and Paisleys – Women and artists of the Middle East share this love with India, and floral/vine embellishments tend to be larger and more noticeable in Arabic designs.
Size – While long, elaborate illustrations are the norm for Indian mehndi creations, henna designs may take up less space for Mid-Eastern women. Intricate, patterned swirls will curve around the wrist, seeming like a standout accessory along the skin.
Northern Africa
For centuries, the henna plant has grown in Northern Africa and been used from Morocco to Egypt. In fact, in Nigeria, Fulani and Hausa brides also require a pre-wedding bridal shower called Wuni or Sa Lalle.
It differs from India's Mehndi occasion in that it's considered the last moment the bride will spend time in her parents' home before joining her husband's household.
Here are some of the designs that a North African woman may be decorated with for her Wuni ceremony, to bring luck to her pregnancy, or to celebrate an auspicious event.   
Linear Flow – The eyes of your admirers will follow the gentle movement of this pattern. This is similar to the Arabic style in that, when compared to traditional mehndi styles, more skin is exposed.

Geometric and Symmetrical – This mesmerizing design is exactly as it reads: crisscrossing lines, perfectly intricate symmetry, and diamond shapes display the work of artists with a methodical eye. These creations are especially boasted in Morocco. 
Jewish Yemenites
While there isn't much of a photographic record of these examples, according to The History of the Bridal Mehndi: How the Tradition Came to Be: "The Jewish bridal henna process took four or five days to complete, with multiple applications and resist work."
However, in some Jewish communities, especially in the smaller Yemenite groups, the Henna ceremony is more about the hefty headdress than the henna.
Here, the name of the ceremony applies when a large dot of henna is applied to the bride and the groom's palm, and then to a few family members. It's a unique way to share the moment with wedding guests and will ultimately leave a smaller, less conspicuous "design."
These cultural design preferences are just the tip of the iceberg when it comes to the endless array of options you have to choose from for your mehndi design.
Short or long, traditional or colorful, the one thing you can be sure of is that your mehndi will be totally unique, and as long as you love it, it will flourish true.
Now, in the case that you're here because you need to host a Mehndi ceremony, and now you finally know why it's important, here's a step-by-step plan for throwing the perfect bridal celebration.
How to Host a Mehndi Celebration?
So, you've decided to be a good sister, aunt, or mother and host your beautiful loved one's mehndi. It's great that you've been convinced not to toss tradition to the wind, but maybe you still need help setting up this milestone event.
Take some notes, and, in the case that you can't scrounge up memories of your own Mehndi ceremony (or haven't had one yet!), make sure to ask your female relatives for advice.
When, Where, and Who
The "when" of Mehndi hosting is actually changing, while for some, it will remain the same. It's customary to have the Mehndi celebration the day before the wedding, but some brides prefer to do it a few days prior so that the design has time to darken.
There are many cultural beliefs for the character of the mehndi: the darker it is, the more the husband will love the bride or the more the mother-in-law will love the bride.
The longer-lasting the mehndi, the more the bride loves and is devoted to her husband. It takes the right artist and the right henna to deliver on both lucky promises – so make sure to choose wisely.
The location of the mehndi can be whatever the bride would like, as long as the groom chooses a separate location. Of course, men don't typically receive the extensive mehndi designs that women do, so for the wedding, the groom may receive a small design to pair with the bride's.
Whether you decide to host the party indoors or outdoors, expect to call in some help for the décor:
Flowers – You'll need to lavish the mehndi venue with almost every flower on the market. Look for yellow, orange, and pink flowers. Your go-to's will be marigolds and jasmine, but if you can, treat everyone's senses to exotic floral arrangements.

Winners like orchids, roses, lotus blossoms, and gerbera will set a heavenly aura for the event.  Make sure to do your research and pick out what's right for you and the bride's tastes.

Entertainment – Don't be the person who throws a boring Mehndi party. A Mehndi without good entertainment will be remembered for all the wrong reasons. Secure singers, musicians, and special performers like dancers, contortionists, fire breathers, etc.

Between enjoying traditional Mehndi songs and sitting still for hours during henna application, above all, the bride must have ample entertainment to stay in high spirits. So, don't forget to invite the hilarious aunt that tells great stories.

Mehndi Artists – Last but certainly not least, when it comes to the stars of the party, the mehndi artists are second only to the bride. Ideally, the bride will have two artists working on her design for the duration of the party – and the mehndi is only complete with a photo shoot.

You should also consider the fact that after, or during the bridal mehndi, the female kin and friends of the bride will also need to have their simple designs done. In this case, it may help to have the two artists trade-off or to even have three mehndi artists at the ready.
With so much to plan, it's no doubt that you'll have many guests to account for. You should already have an idea of which family members to invite, and they will likely be willing to help you set up.
In the past, the mehndi was typically an affair for women, but today, plenty of brides will invite their male family members and friends. And, as is the rule of any great occasion, make sure you have enough delicious food for everyone.
Now that you know how to set up a lively mehndi, you can get started on your planning and call up some help.
Mehndi Professionals vs. Amateur Hour
In the past, the usual practice was for two older female relatives to apply mehndi to the bride, all the while chatting about their life experiences and easing the bride's pre-wedding jitters.

As times have changed, some women are specializing in mehndi artistry and have made bridal mehndi applications their chosen career. Because it's an hours-long process, it can be costly, but it will likely be worth the professional results.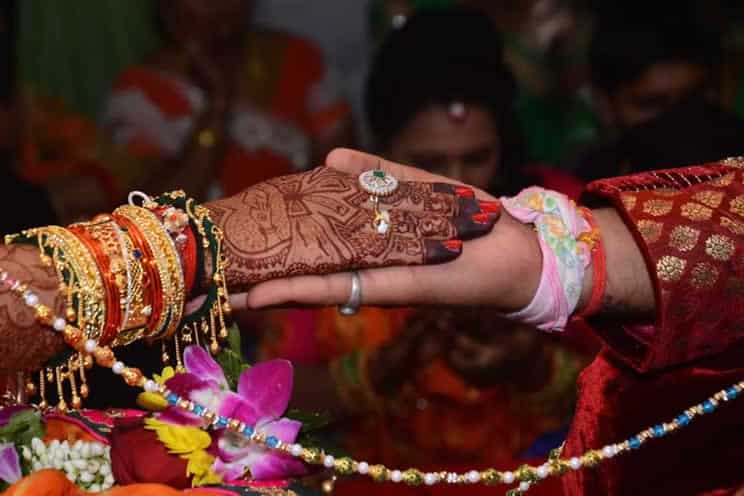 But in some cases, the bridal family may not have a choice but to find a practiced cousin or friend of the family. For this, it will be absolutely vital to do your research to make sure the volunteer is using high-quality ingredients.
Low-quality henna can result in bad staining and even painful skin reactions. It should be relatively easy to find fresh, well-sifted henna powder, but what happens after that is what counts.
At the advent of the internet, imitation henna flooded the markets, and naïve buyers were more than willing to be the guinea pigs for henna cones that turned out to have gasoline, paint thinners, and other harmful chemicals.
As a result, you'll see many professionals warning against both black and white henna – but when buying any type, you have to do your homework and be critical of the ingredients list.
If you're buying online and would prefer to use premixed cones, make sure to check the reviews twice to be sure there aren't any serious complaints. With most reviews, you'll find that longevity is the issue, which will definitely affect the bride's "luck." 
You may be thinking that not everyone's body will react the same way to certain ingredients, but this is never a risk you want to take for a bridal mehndi.
Up next, we're going to dive into what you should look for in the case that you're creating your own henna paste with all-natural powder.
Applying Mehndi
While a fun, spontaneous henna application may take a short time, a bridal mehndi will take hours of sitting while the artist concentrates on creating a striking, deliberate design.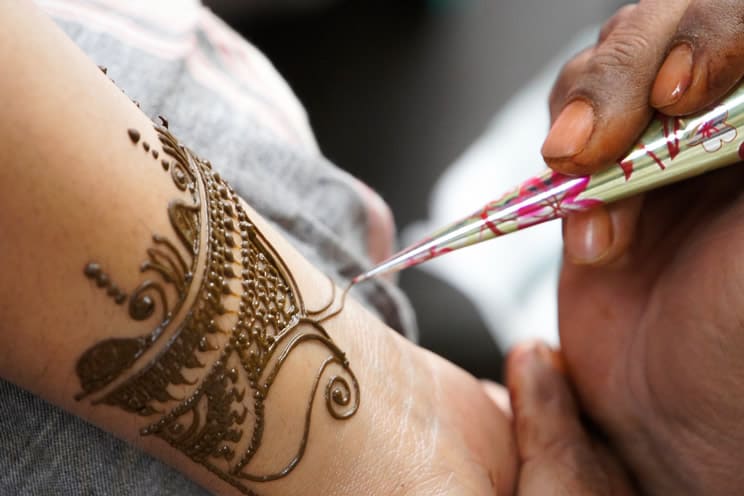 If you're not employing a professional artist's help, take note of the ingredients listed above so that you can make your own henna paste and provide it to the volunteer. Depending on the recipe you find, some will swear against one ingredient and praise another.
The basics you will need are sugar, water, essential oil, and of course, fresh, well-sifted henna powder; any extra ingredients you mix in should function to darken the bridal mehndi and/or boost its longevity.
One disputed ingredient is tea. While some warn against mixing tea into your henna powder – because it doesn't affect your mehndi color or promote a long-lasting stain – some sources claim that green tea's natural antimicrobial properties can be healthy for the skin and that some teas thicken the consistency of henna paste.
One popular ingredient is lemon juice. Henna powder needs an acidic liquid stirred in with it in order to release its color molecules. Lemon juice is naturally more acidic than water, so it promotes a deeper, richer color stain for mehndi.
Many pros have their own special ingredients list that are the key to producing deep, dark mehndi designs, so it may help to try out different mixes and practice on yourself or a friend before the ceremony. You never know – you may find yourself creating a high-quality paste that everyone will love.
For a step-by-step tutorial on creating your own henna mix, check out this video and brainstorm some ways to improvise. If you have more time, here's another book with recommendations for henna recipes and styles.
Once your henna is ready, and the bride is prepped manicured hands waiting on the pillow, the only thing to worry about at that point is décor and aftercare.
From Taking Care of Your Bridal Mehndi: "For a wonderful design and stain, it is always good to hire a reputable artist who mixes their own mehndi and leads you through a thorough process of aftercare."
But as we've acknowledged, this may not be an option for everyone, or you may want to let your revered, practiced family member do the honors.
In this case, there are many ways to take care of a mehndi design: this mainly involves keeping warm and resisting the urge to scrape it off for as long as possible.
Everyone knows that for the best stain, the henna must be left on for hours – the longer, the better, as the longer the henna is sitting, the darker the stain will be.
If the bride dares to keep it on overnight, she will need to wrap the mehndi in breathable material carefully. Otherwise, once the henna is removed (after two hours, at the least), it will continue to darken over the next few days.
This may be another contributing factor to why some women are choosing to have their Mehndi celebrations a few days before the wedding.
Here are a few quick notes for application and aftercare:
When choosing an applicator, small cones are usually the best because they're easier to handle.
The bride should dress in loose and comfortable clothing for the lengthy process.
Many women use toilet paper to "mummify" their henna. Saran wrap is also used but can promote sweating along with warmth, and risk smudging.
Scrape off your design, don't wash it. Most already know this, but, like everything your parents teach you, it never hurts to hear it again.
Some suggest using sugar to wash your henna the morning after, but others say that this is exfoliating. Be sure to use gentle ingredients for washing the mehndi.
Because this will likely be a once-in-a-lifetime event, it's important to make sure the ceremony and mehndi application isn't just about the logistics. Once the bride is settled down for the process, it'll be time to really get the party started.
Make sure that everyone is having a good time, and once the application is complete, be sure to capture the bride in every angle and in beautiful settings so that she can show off her design. The gorgeous, elaborate designs will be a big part of what everyone will notice in her wedding photos and will be what stands out in the years to come.
The Mehndi celebration is steeped in ceremonial significance. Aside from being both a relaxing and exciting time, it's also a moment to lift up the bride and celebrate her happiness.
Marriage is a rite of passage for people of any creed, but as a Hindu tradition, it is valuable because it is a highly important step in one's life journey. So, when a bride is decorated with the rich, painted adornment for her Mehndi celebration, she becomes part of a long line of women who have been honored in this way before.
Each Mehndi ceremony pays respects to the sanctity of marital tradition and to the beauty and family of the bride. As an event that observes past values and has implications for the future, Mehndi is the proper way for any worthy bride to refine her perfect qualities and prepare for the beautiful experience that is marriage.