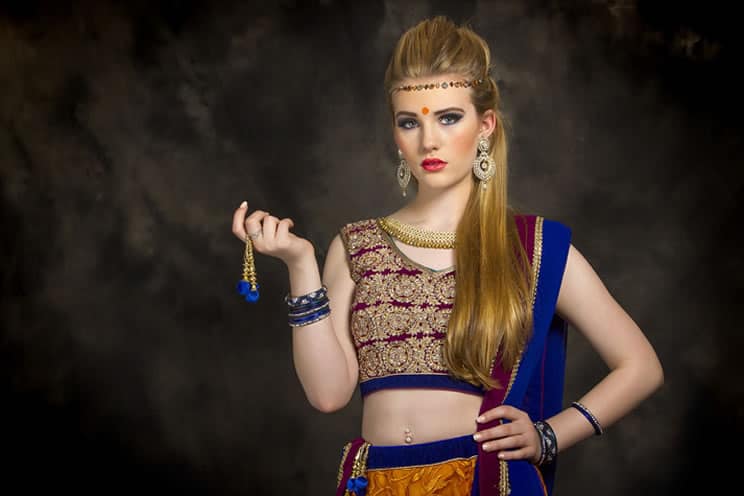 I was recently invited to an Indian wedding earlier this year, thanks to my coworker, a northern Indian wedding, to be particular. So, I did some research on whether wearing traditional Indian clothes is encouraged.
So, is it cultural appropriation to wear a sari to an Indian wedding? Wearing a Sari to an Indian wedding or within the Indian Subcontinent is not cultural appropriation. Regardless of the place of origin, race or culture of the wearer, wearing this traditional dress at Indian weddings is generally accepted. Along with other events that are dominantly of Indian traditions.
Cultural appropriation is considered wrong when the culture that is being appropriated has been decimated, tortured, wiped out or enslaved. It is also wrong when one wears a symbolic accessory or artifact or anything that's considered sacred in any particular culture. In this era of cultural appropriation, Indians are the exact opposite of this- they like when a guest embraces their culture, either by eating Indian food or by wearing their traditional attire.
When invited to an Indian wedding, you're very much encouraged to put on Indian clothes. You could opt to show up in a typical dress, but you will stick out like a sore thumb. Personally, I have always wanted to wear a Sari. They look so beautiful and elegant!
What should a non-Indian guest wear to an Indian wedding?
Normally, traditional Indian weddings last for three days. The first day comprises the Ganesha Pooja, one of the Hindu ceremonies that occurs at home with family and close friends. The second day involves the sangeet where the bride and groom are accompanied by their loved ones for an evening of celebrating and dancing. This is when the bride bears henna tattoos drawn on her hands along with her feet. The wedding ceremony is done during the morning and on the third day, it is followed by a reception in the evening.
With the popularity of fission weddings, couples are putting their personal spin on tradition. Indian weddings might involve all the three rituals, or just certain aspects. But in general, any guest should dress formally for each ceremony. Normally as the parties progress throughout the week they become more and more elaborate. You will need to ensure that your outfits follow the same suit, saving your most formal ensemble for the reception.
Dressing conservatively is important, especially if the ceremony is religious. Contingent on the type of religious wedding you are attending, the dress code will vary. Some ceremonies may require covered shoulders and sometimes the head, others will not. Essentially, the more traditional the venue- whether the ceremony the ceremony takes place in a temple or a mosque- the more conservative the dress code.
The kind of ceremony can always dictate how conservative the dress code is. If the ceremony is a Sikh ceremony, men and women are encouraged to attend the ceremony with their heads covered. If it is a traditional Hindu ceremony, then women are expected to wear Sari or a pantsuit outfit.
Accessorizing is always key, especially with bracelets. Indians love wearing bracelets to match almost every outfit that they have. Wearing jewelry along with other body adornments is also encouraged. For women, this could involve an ornate sticker on your forehead or a bindi. Beyond that, one can get colorful and metallic with gold bangles, bright purses, headpieces and dazzling jewelry.
Find out if a non-Hindu can have a Hindu wedding.
What should a female guest wear to an Indian wedding?
Wearing Saris, lehenga choli and salwar suits are the most common festive ensembles for female guests. However, the details and styles may vary with the community culture. Typically, North Indian weddings are usually flashy and loud. Looking for outfits that have a good amount of ostentation, like the brocade lehengas that are metallic and golden, as a bright rani pink Sari. Chucky embellishments and crystal-studded necklines are usually appreciated during these festivities.
South Indian weddings ceremonies are typically quiet. But when it comes to outfits, ladies take pride in wearing and owning heritage weaves like Pattu Sari, Kanchipuram silk Sari, as well as other South Indian silks. Intricately handcrafted gold jewelry also forma unimportant part of the festive attire. Wearing a Sari is not necessary though. You can opt for a plain georgette suit or a sophisticated- looking silk salwar suit paired with a designer dupatta.
Nikah, which is a nuptial ceremony that is anchored in Islamic culture, also calls for the same attire, with a slight variation in silhouettes and color styles. Sharara suits, indo-western lehenga suits and Anarkali suits are suitable choices for the ceremony. Black outfits are as well acceptable for any Nikah ceremony.
As a guest to a traditional Indian wedding you're encouraged to wear colorful and bright clothes. Mint green, vibrant blue, orange and bright pink are some of the good choices of colors. You should always avoid red, since the bride would be wearing red in one of the main events during the ceremony. For women, whatever blouse and color you end up picking, it is essential to ensure that your saree gets pre-stitched into your skirt. It will come in handy in saving you much time since sari folding is difficult and comes with numerous safety pins. Getting it pre stitched allows you to wear it just like a skirt.
The language of clothes is usually carefully coded as a result of numerous years of cultural, social and religious ore, and the unspoken ritual that dictates what one chooses to wear. As a race, we make distinctive judgments based on attire and appearance.  It may render us uncomfortable that superficial beliefs are so fundamental in forming opinion, but such impressions are normally rooted in our subconscious.
One lovely fact about Saris is that it embraces all figures and looks amazing for everyone. There is something very democratic about this preceding fact. When traditional costumes are taken out of context and considering the specific language of costumes around the world, many Asian women will always opt to wear a Sari as a form of dress because of its social significance within their culture and expression of loyalty to that way of life.
It is always the significance of clothing in relation to a certain culture that makes it not appropriate for casual embracing of such a traditional attire for a specific occasion. It feels too nonchalant, a direct expression of disrespect for anyone to just wear such attire. Because a Sari is not deeply ingrained in a certain ethnicity, it is safe to be adopted by others for occasions like weddings and cultural events.
Final thoughts
As far as cultural appropriation is concerned, wearing a Sari to an Indian wedding is not an issue. There is no such thing that only Indian women can wear a sari. Anyone can always wear it if it makes them feel comfortable. Also, it is not mandatory that anyone who attends an Indian wedding should wear a Sari. It always depends on the people who attend the wedding failing to do so won't victimize you either. People will understand that you're from a different culture and that you may not be wearing the traditional clothing as you would feel uncomfortable.
Embracing such cultural heritage tends to result in a more cultured look. Saris are the ordinary, everyday clothing for a large number of people in the Indian culture that is ancient and is being adopted currently in the society. The concept of cultural appropriation does not apply especially to anything that has religious significance such as bindis, to religious or spiritually significant outfits like the Native American headdresses.
Wearing a Sari at any particular event or location that is dominantly of Indian tradition, like a south Asian wedding to the celebration of Hindu festivals like Navarathri to Diwali among other traditional events is not cultural appropriation.