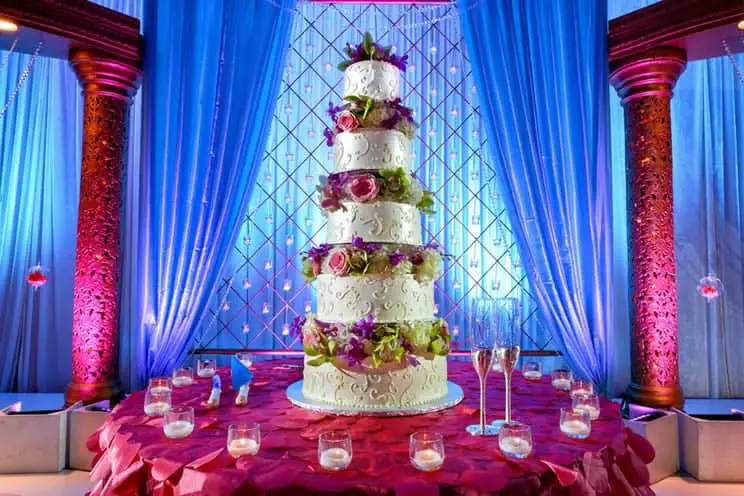 Hindu weddings are rich in tradition, elaborately planned, culturally centered, full of beautiful, vibrant colors, and last anywhere from two to three days. There are many choices of food and sweets. Will there be cake to eat at a Hindu wedding?
Traditional Hindu weddings incorporate sweets into the wedding. In more recent history, that has evolved to include a small, beautifully decorated cake, usually covered with red fondant and gold engraving. Modern Hindu weddings are likely to have a cake similar to what you'd see in a Western wedding. 
There is an extensive tradition connected to and followed during the three-day celebration of a Hindu wedding. The cake has become more important for young Indian couples today. There is a significant amount of fascinating information about Hindu weddings, the clothes, the food, and the cake. Keep reading to see these beautiful ceremonies and celebrations come to life.  
Traditional Hindu Wedding Cakes
As mentioned before, the wedding cake is a part of both the traditional and the modern Hindu wedding. The following elements will be part of the traditional Hindu cake. 
The cakes are smaller. Perhaps only two rather tall layers, at times, there may be three. The frosting or fondant is red, and this covers the entire cake. Then there is henna inspired gold engraving or inlay. 
This may be the same design as the temporary henna painted on the bride's hands, arms, and feet during the Mehndi ceremony several days before the wedding. 15 Hindu Wedding Ceremony Traditions
The Traditional Cake Topper
The cake topper might be one of the Hindu gods such as Krishna or Ganesha. There may be a giant elephant, which is a characterization of the god Ganesha. This represents strength, luck, good fortune, and protection.  
A Lotus flower also represents many gods, and these gods represent the characteristics of godliness, grace, and purity.  You could use any of these items as a cake topper for a traditional wedding cake.
Flavor Choices
There are a lot of delicious flavor choices for the cake. It could be a chai-infused cake. Other flavors would be pink champagne, green tea, red velvet, chocolate, or vanilla. The fillings could be anything from strawberry, green tea, raspberry, or white chocolate. The choices are many!
Modern Hindu Wedding Cakes
They create modern Hindu cakes with a nod to Western influence. These cakes are large and have many tiers. If the bride and groom are choosing to move away from traditions, the cakes will reflect more of their personalities. 
There still may be a lot of red on the cake, along with gold designs and white accents. However, it would not be uncommon to see blue, pink, and even green for the main color of the cake.
The Shape of Modern Cakes
One of the neatest aspects of modern Hindu cakes is their shape. They could most definitely be the traditional round layered cakes or even a square cake. However, more couples are opting for cakes that shaped like famous buildings.
The Taj Mahal is one of those famous buildings that a modern Indian bride and groom may choose for their cake! Other designs may be places or items that are important or have very special meaning to the couple. 
Modern Cake Toppers
In Western culture, you may see flowers, Christian symbols, a bride and groom, or something else that is meaningful to the couple that will top the cake.
In a modern Hindu wedding, many couples have silly figurines of themselves on the top of their cakes. Not necessarily a bobblehead type character, but it could easily be a caricature of the bride and groom.  
Flavors of Modern Cakes
There is not a big difference when it comes to the flavor of modern cakes versus the more traditional Hindu wedding cakes.
Red velvet, pink champagne, chocolate, vanilla or green tea flavor are just as popular for the modern bride and groom. The choice of fillings also lines up between the traditional and the modern. 
White chocolate, chocolate hazelnut, mango, and strawberry are some of the top flavored filling choices made by modern couples.
The Meaning of the Wedding Cake
The wedding cake has been a part of European and western culture for centuries. However, the wedding cake has not always been a part of the Indian or Hindu celebration. More and more couples are using the cake as part of their wedding.
The traditional meaning behind the cake is a sign of good luck for those attending and for the couple. The bride and groom serving each other cake shows commitment to their new marriage and life together. The Maharani Diaries
Other Sweet Treats
If you are someone that has a sweet tooth and is wondering if cake will be the only dessert offering, have no fear! In both traditional and modern Hindu weddings, food is very important. 
On a typical dessert table, you may find a selection of tarts, cookies or cupcakes, and macaroons. 
There are a few very traditional sweets that may appear on the dessert table. 
Laddu or laddoo – This is a sphere-shaped treat with the key ingredients of sugar, fat, milk, and flour. Other ingredients might include raisins, dried fruit, or chopped nuts. 
Gulab Jamun – This is a very famous Indian treat and is usually served at large celebrations like weddings. This is a berry-sized ball made with milk powder and flour, and some type of leavening, and then it is soaked in rose flavored syrup and served.
Halva – Its key ingredients are sesame seed paste and, you guessed it, sugar! It has the consistency of fudge.
Kaju – This means "cashew" and that is the chief ingredient of this sweet treat. It also contains rosewater and sugar! They also refer to it as fudge with nuts and dried fruits added.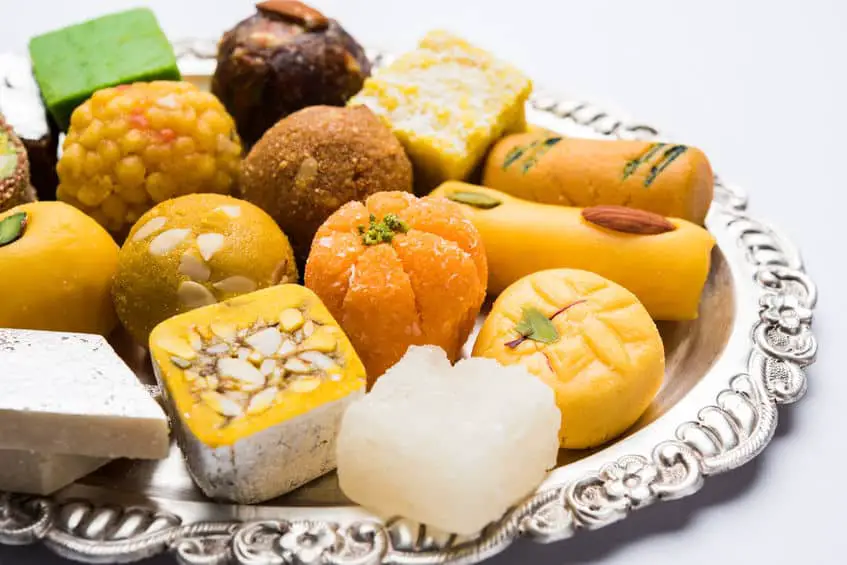 Hindu Wedding Food Traditions
Food is a very important part of a Hindu wedding. I mentioned earlier that these weddings last two to three days. 
There are many food items that are a part of the ceremony itself and have deep meaning and symbolism. 
Many times the bride and groom will fast on the day of the wedding. They break this fast during the ceremony with the Kansar Bhakshan, an exchange of sweets between the couple. Salmada.com
The father of the bride places a coconut on her hands, and they together hand the fruit to the groom. This is a symbol of prosperity.  
Rice represents support and nourishment. During the ceremony, the couple will pour rice over each other's heads, and the guests throw turmeric colored rice at the bride and groom. Indian Wedding Tradition
The Celebration
We can describe the typical Hindu wedding reception or ceremony with four words: lots of wonderful food! They usually serve it buffet style, and there should be no fear of the food running out. All foods are replenished over and over again.
Besides the beautiful and delicious wedding cake and the dessert table filled with sweet treats, you will find numerous choices before and during the main meal. There could easily be ten different types of appetizers. 
You will most likely experience four or five choices of main entrées, depending on the bride and groom. There could be fish, beef, or chicken. A vegetarian choice might also be available. There is also salad and yogurt served. 
Alcohol is most likely served at a Hindu wedding unless one of the families, either that of the bride or groom, object to it because of religious reasons. 
Hindu Wedding Cake
There is so much rich and meaningful tradition that is a part of a Hindu wedding. The cake is becoming a part of the wedding celebration, and as the years go by, the modern bride and groom are making sure the cake holds its own special meaning as a part of their perfect day.