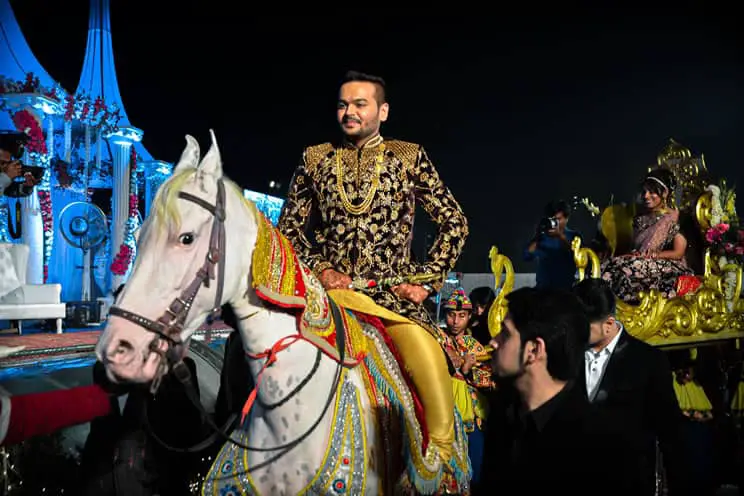 If you've never been to an Indian wedding, you are missing out on what could be one of the most breathtaking experiences of your life! There is so much energy and so many colors involved in the various events. As such, the bride and groom often get to choose several different outfits for those different events. So what does a Hindu groom wear at weddings?
Traditional Hindu grooms wear customary clothing such as a sherwani and churidar for the wedding ceremony itself. They have other options such as Jodhpuri and western suits, but many still opt for traditional attire. There is a wide variety of cuts, styles, and colors for him to choose from, but he will often choose to match his bride.
Different regions in India practice different customs when it comes to wedding ceremonies and the other events involved. Depending on where the couple was raised, they might look very different on their wedding day than other couples. Regardless of his roots, a Hindu groom has tons of options for his wedding day attire.
Traditional Indian Bridegroom Wear
The bridegroom in a traditional Indian wedding is elaborately decorated, but less so than the bride. He has multiple options in terms of which specific pieces he wants to wear, but some pieces are more traditional than others. Grooms often incorporate not only spiritual or cultural elements but also those handed down for generations within his own family.
His specific attire and colors can vary by region. For example, some areas in Southern India still follow the native customs in which the groom wears a dhoti, which is a type of sarong. It is reminiscent of loose, flowing trousers that serve as the undergarment for the rest of the national, ethnic costume of India.
Conversely, in Northern India, many grooms wear a Sherwani and Kurta. These items are much more common today. Some grooms today also wear a suit that is similar to that of a groom in western countries. If he is exceedingly cutting edge, he might also choose a formal tuxedo with a bow tie and tails.
The Sherwani: The Groom's Jacket
The staple item in a traditional Indian bridegroom's ensemble is his overcoat, called a Sherwani. It can be highly elaborate or very simple, depending on the groom's taste and the style of the wedding. It can be custom-designed, or purchased in a store in a variety of sizes to fit different body types.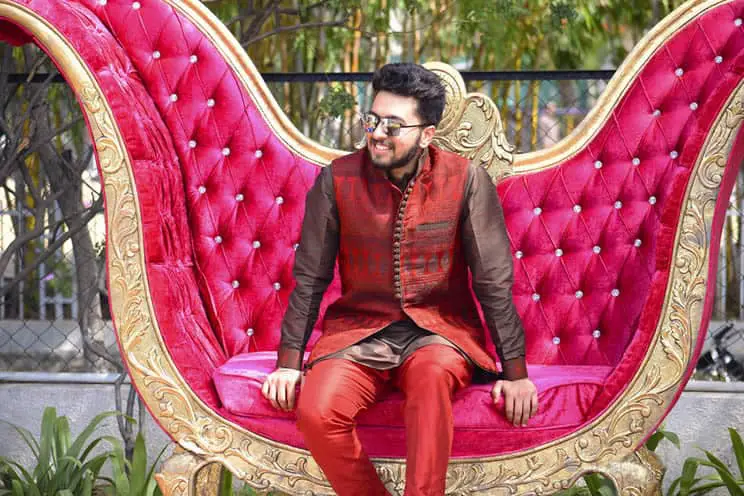 These elegant jackets come in various fabrics such as cotton, georgette, silk, brocade, and crepe. Depending on the weather and time of the year in which the wedding takes place, the groom may choose a heavier or lighter fabric for comfort. Different fabrics can sustain different types of ornamentation, depending on how fragile they are.
The Sherwani is traditionally worn over a kurta, which is a loose shirt with no collar. It is basically a tunic that can be worn with or without a jacket over the top. Kurtas are sometimes plain and sometimes embroidered, but typically very light and soft on the skin.
There are various styles of Sherwani from which to choose, depending on the style of the wedding, the region in which the families reside, and the personal preference of the bride and groom. Some of these styles include Chipkan, Indo-Western, Achkan, Angrakha, and Pakistani. They vary in length, style, and design, but are all acceptable for the groom to wear.
Churidar: The Groom's Trousers
The bottom half of the groom's wedding attire is typically a pair of trousers called churidar. The churidar are usually slim-fitting pants that are a little wider at the top and more narrow at the bottom. They often are cut longer than necessary and cuffed at the bottom, allowing the excess fabric to fall into folds around the ankles.
Fun fact: These folds often resemble bangles, which is how the trouser got their name. 'Churi' means bangle, and 'dar' means like. When the fabric folds around the ankles, it is "bangle-like!"
Some grooms opt for a more loose-fitting pant such as a palazzo, which is wide and gathered at the top and through the hips. It also falls with folds in the fabric, much like the churidar, but is much looser. There are various other styles of pajama pants that can also be worn, but the churidar is by far the most widely accepted.
Mojari: The Groom's Loafers
Most grooms opt for traditional mojari loafers to complement their Sherwani and churidar. Since cows are sacred in Indian culture, the shoes are often made of buffalo or goat leather instead of the hide of a cow. They are typically handmade, with soles made of multiple layers of thick leather glued together and then stitched for reinforcement.
Out of respect for the sanctity of the ceremony, the groom must remove his mojari prior to entering the mandap. The mandap is the altar where the ceremony is held. It is typically a structure made of wood, adorned with flowers and colorful fabrics, and serves as the backdrop for the wedding ceremony.
The Saafa: The Groom's Turban
To top it all off, the groom traditionally wears a saafa. This is a turban that matches the rest of the ensemble and is adorned with a brooch. The brooch, called a kalgi is a symbol of respect.
The kalgi is placed directly above the center of his forehead, over the third eye. In Hindu religion, the Third Eye is considered to be the gateway to wisdom and spiritualism.
The saafa is typically made of a soft, pliable fabric such as silk or georgette. It ranges from 3.5 to 6 meters in length to allow plenty of fabric to tie it. The fabric will be wrapped multiple times around the groom's head, in different angles, and with a strand left hanging down for decoration. The saafa is what forms the turban that most people think of when they consider the headwear of a Hindu groom on his wedding day.
Necklaces
There are a variety of options for the groom when choosing how to embellish his wedding day attire. Although the bride is typically the center of attention and bedazzled to the hilt, the groom can definitely offer some competition in this regard! Some of his options include:
Satlada Haar – A necklace comprised of seven strands, each a little longer than the last. The strands are traditionally made of pearls, but can also be emeralds, rubies or other jewels. This style of necklace originated in the Hyderabad State, which was a kingdom in South Central India.
Kundan Jewelry – Kundan is one of the oldest types of jewelry made in India. The word Kundan literally means "highly refined gold." These necklaces are typically gemstones set in an elaborate setting with gold foil in between the stones and/or settings.
Polki Diamonds – For extremely traditional couples, the groom might opt for some ornate jewelry such as pendants or rings featuring Polki diamonds. The Polki cut is one of the oldest types of diamond cuts, which originated in India long before Western cutting methods emerged.
Other options for necklaces for the groom include highly fashionable necklaces with pendants attached. Many modern grooms are opting for unique pieces that don't fit into a specific style or category. The more ornate, the higher the fashion when it comes to bridal jewelry in India!
Jodhpuri Suit aka Bandhgala Suit
Hailing from the Jodhpur State, or the ancient Kingdom of Marwar, the Jodhpuri suit was popularized in the mid 19th to 20th centuries. It is a sleeker, less bulky adaptation of the traditional Angarkha suit. It comes in a variety of colors so the groom can choose to match his bride or be independent in his style choices.
The Jodhpuri is comprised of classic, slim-fitting trousers and an overcoat that is approximately waist-length. It is sometimes accompanied by a vest under the coat and sometimes not. It often features embellishments such as hand embroidery or beadwork. It is a much more contemporary design than the traditional Sherwani.
This suit, much like the Sherwani and churidar, can be made from a variety of materials. The most popular fabrics for the Jodhpuri are silk and cotton, but they can be made from others, as well. Some grooms prefer that their jacket and trouser be the same color, while others prefer to have contrasting colors for the separate pieces.
Anarkali Outfits
Anarkali outfits have traditionally been worn by women in India and Pakistan, but have started to become more popular for men in recent years. In particular, many modern grooms are starting to consider this as an option for their wedding attire. It is not customary for grooms to dress in this manner, but is becoming more popular with younger generations.
The Anarkali is a long gown that is often extremely decorated and accompanied by a pair of churidar underneath. It can also be worn under a short jacket or vest. This silhouette was historically worn by Mughal emperors but is now emerging as a trend in high fashion Indian weddings.
The Sehra
The sehra bandi is an ancient tradition for grooms from Northern India, Punjab, and Pakistan. It is a ceremony during which the sehra, or veil of flowers or beads is tied around his forehead to allow the garland to cover his face. This tradition is often viewed as a coming of age for the groom, which can be an extremely emotional moment for his mother, father, and immediate family members.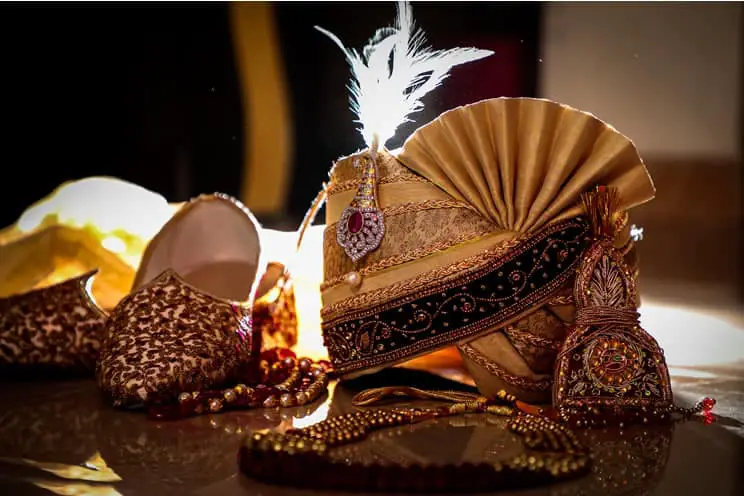 In some families, the sehra is tied to the groom's turban by his soon-to-be sister-in-law. She will first apply kajal (eyeliner) to his eyes, which is believed to ward off evil. She is then compensated with money or jewelry.
When the bride wears a veil to cover her face, it symbolizes modesty and purity—the sehra functions in much the same way for the groom. Although many modern couples opt not to follow this tradition, particularly in western countries, it is still very popular in Northern Indian.
Color Scheme
Indian weddings are usually breathtaking displays of color and embellishment. Not only are the bride and groom dressed elaborately, but the guests are encouraged to do so, as well. The only request is for guests to avoid red, as that is likely to be the bride and groom's main colors during at least one of the many wedding events.
Traditionally Gold or White
Many bridegrooms will choose gold or white for their Sherwani or other suits. These colors exude confidence and a regal presence. He will typically accent this color palette with pocket squares, embroidery on his Sherwani, vibrant colors for his saafa, and even some elaborate jewelry.
Some grooms prefer to opt for brilliant colors, avoiding white or off-white as those are typical colors of mourning. They also avoid wearing black because it is considered to be unlucky, which is a stark contrast to grooms in most western countries.
There is also a lot of gold incorporated into the groom's outfit. He might have gold accents in his suit or on his saafa. He may also choose to wear several pieces of jewelry to show his stature in society. Sometimes, even the mojari are stitched with gold threads.
Matching the Bride
For grooms who prefer to wear color, they will often choose to match the bride's gown for congruency in the ceremony. It presents the couple as a unified entity when coordinated in this fashion. It also looks fantastic in photo ops, which is obviously an important part of any wedding.
The most traditional color for an Indian couple on their wedding day is red or crimson. These are powerful colors that represent happiness and good fortune for the newlywed couple. Whether the groom is in head-to-toe red like his bride or dresses in a neutral color with red accents, it is a sight to be seen!
Family Heirlooms
Family is an extremely important element of Hindu culture. The families of both the bride and the groom are highly involved in all of the wedding festivities, before, during, and after the wedding ceremony itself. For this reason, it is no surprise that family heirlooms are plentiful on the day of the wedding, as well.
His Mother's Dupatta
Many grooms will choose to wear their mother's finest dupatta as a saafa. A dupatta is a delicate and usually highly ornate scarf or shawl that is worn by females in conjunction with their shalwar kameez (traditional dress). If the groom wants to incorporate his mother's essence into his wedding day attire, he will take one of her dupattas and have it tied on as a saafa.
His Father's Sherwani
If there is a particular sherwani in the family that holds high significance, the groom may choose to wear it, rather than purchasing something new. More often than not, this will be a sherwani that belonged to his father. However, sometimes it might be even older than that and potentially passed down for generations.
His Grandfather's Kurta
In order to show respect to his grandfather, the groom will sometimes opt to wear his grandfather's kurta under his Sherwani or other coat. The more traditional the couple, the more likely this will be. He may also choose another article of his grandfather's clothing, such as trousers or another pajama.
Accessories
Perhaps the most common family heirlooms for the groom to incorporate into his attire are accessories. These are not only the most common but the easiest! Accessories are more one-size-fits-all, while clothing would be much more difficult to fit.
Examples of accessories that the groom might choose to wear include brooches, lapel pins, jewelry, and more. If the groom chooses to wear his father's brooch, he might place it on his saafa. As mentioned earlier, there is a kalgi (brooch) placed on the saafa as a sign of respect. The groom will specifically pay homage to a family member to whom the brooch belonged if he places it on his saafa.
Other heirloom accessories might include watches, bracelets, and necklaces passed down through multiple generations. Since the bride and groom tend to be highly ornamented during multiple events, the groom can choose several pieces to wear throughout all the different occasions. More jewelry may also serve as a sign of wealth or stature in society.
Some couples will honor an even older tradition, which is to carry swords during the wedding procession and ceremony. Some people say it is superstition, and others say it is historically accurate, but there are tales of Indian wedding processions being attacked and looted, necessitating these weapons. Another theory for why the groom carries a sword is to take on the role as the protector of the bride symbolically.
Other Indian Wedding Events
Although the actual wedding ceremony is the main event, there are several other events leading up to the wedding day. The bride and groom can choose their attire for each of these events. In the case of the groom, he is usually encouraged to be as daring as he wants to be when it comes to colors, designs, and jewels.
The Baraat
During the groom's procession, he and his entourage make their way from the groom's home to the home of the bride's family. He is often accompanied by his immediate family, along with other friends and distant family members. The procession can be highly expensive, including a band, fireworks, and exotic animals or can be fairly simple.
The groom will wear his wedding day attire for this event because it happens on the same day as the wedding ceremony. He will likely be highly decorated and may or may not have a sehra (veil) covering his face.
The Sangeet
A groom will be considered "old fashioned" if he wears muted tones of beige, navy blue, or brown on sangeet night. The sangeet is usually the night before the wedding and is a huge party for the families to get to know one another. It is symbolic of the two families becoming one.
Most modern grooms will wear vibrant colors on sangeet night. Many couples choose to match their outfits for the sangeet, just as they do for the wedding ceremony. However, this is not a requirement.
The suit for sangeet night can also be traditional or contemporary. A sherwani and churidar that are different from the wedding attire can be worn, or he can opt for something completely different. Although it is not a casual occasion, many grooms will choose an outfit that is slightly less formal than the suit for the wedding.
The Haldi Ceremony
During this ceremony, the bride and groom are anointed with turmeric to give their skin a glowing illusion. It is also believed that this ritual bath will bless the couple prior to saying their vows.
The groom is expected to be very simple during this ceremony. Traditional kurta pajamas in white or beige are the go-to for this event, unlike the other events that are far more elaborate.
During this ceremony, the groom might accent his simple pajamas with a colorful stroll, or might wear a contrasting pair of trousers under his white kurta. Either way, the focus of this ceremony is the turmeric that is placed on the skin of both the bride and the groom, so elaborate clothing is not at all necessary.
Can Modern Indian Grooms Wear Tuxedos?
There is an increasing number of Indian grooms who choose to wear a Western suit or tuxedo to his wedding. As ceremonies become a bit more relaxed, and cultures continue to blend, this is no longer a far-fetched idea. As with many other choices in the wedding ceremonies and events, it will often depend on how traditional the families are and what their stature is in Indian society.
Since many modern grooms engage in a contemporary lifestyle, it is no longer strictly required for them to wear traditional clothing. Additionally, if the bride is also contemporary, or lives in a Western country, she may request that some western elements be included in her wedding day, including her groom's attire. The tuxedo offers a clean, classic fit that will compliment anything the bride chooses to wear.
Modern Grooms Wearing Mehndi
The bride typically wears Mehndi in a Hindu wedding, and it completely covers her hands, forearms, legs, and even her calves. It is believed that the darker the ink, the deeper the bond between the bride and her groom. However, it has not been traditional for the groom to have any mehndi on his body for the wedding until recently.
Modern grooms are starting to experiment with different types of mehndi in certain areas of their body. Some choose arms or legs while others choose hands or feet. It is not as intricate as the designs on the bride's body, but it is an emerging trend. Most grooms also opt for more masculine designs, rather than the mandalas and "flowery" designs placed on females.
An even newer trend is for grooms to try to match some of their simple mehndi designs to the more elaborate ones on his bride. For example, if she has multiple rounded edges in her designs, he will do the same. If she has sharper lines, edges, and chevrons, he will do that as well, so there is additional congruency, aside from the matching of their outfits and colors.
The modern grooms trying out these techniques are keeping it simple and complementary to their wedding day attire. The Mehndi is sometimes visible if it's on his hands or feet but remains hidden for the larger portion of the day if it's on his arms or legs. This emerging trend is certainly a fun addition to the festivities of the day, not to mention a break from tradition, which many grooms are excited about.
Conclusion
Traditional Hindu weddings are steeped in tradition and respect for family and cultural customs. As such, many couples will opt for the most traditional options available in order to adhere to the customs of their families. Many families will also dictate which traditions are sacred for their children and which ones are more flexible.
However, many Hindu grooms have the autonomy to pick and choose the traditions they wish to honor, as well as those they wish to blend from other cultures. As the world continues to expand its horizons and mix cultural norms, Hindu grooms are incorporating new elements of style while simultaneously embracing ancient ones.
The ability to choose what is included in their wedding ceremonies is a fairly new phenomenon in Indian culture, so many members of the younger generations are embracing it with fervor.
If you're in the process of planning your perfect wedding, relax and let your creativity kick in. Indian weddings are creative, colorful, and vibrant. Incorporate everything that you feel is necessary from the cultures of your parents, your in-laws, and your own relationship. The perfect blend of traditional and modern are somewhere in between!